Interested in immigrating to the United States?
Fill out our immigration assessment form today.
VisaPlace.com was founded by Michael Niren, an immigration lawyer, who has over 20 years of experience in immigration law. Michael started his own immigration law firm back in 1997 and grew it to become VISAPLACE LEGAL*, an award-winning and leading law firm in Toronto. VisaPlace Legal has won the Top Choice Awards for the Top Immigration Law firm in Toronto from 2010-2019 as well as other awards and designations for its great service to clients. Michael and his immigration team are frequently sought after in the media to discuss the latest immigration developments. During his years of immigration experience, Michael has developed what he considers to be the "best practices and procedures" for Canadian and U.S visa cases
VisaPlace is backed by the latest technology in immigration case processing and works with trained and experienced immigration lawyers who represent Michael's vision in providing the very best, most efficient, and cost-effective immigration and visa services available.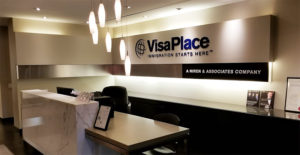 Welcome to your VisaPlace Group Lawyers
All our cases are handled by competent and experienced immigration professionals who are affiliated with VisaPlace but are independent. These professionals consist of lawyers, licensed paralegals and consultants who work at Niren and Associates immigration lawyers. These lawyers are all trained to be very responsive and they know how to deal with government officials effectively in order to maximize outcomes for all visa applications.
Thousands of

satisfied clients

and going strong
VisaPlace uses advanced technology, a wide range of immigration case management tools, and of course, top talent to ensure that your visa case is handled with the upmost care. With thousands of satisfied clients served, we know how to get the job done!
Do you want to immigrate?​
Book your consultation now or check if you're eligible.
How is your case handled?
VisaPlace Lawyers used the "Approved™" method. It's proven, effective and it works!

We know these days Canadian and U.S. governments have created complicated barriers to entry. Immigration rules and regulations are becoming more and more complex. In order to qualify to relocate to Canada or to the U.S., you must present your case properly to an immigration officer who has the authority to grant or deny your admission.
We have made it our primary goal to assist you towards getting your visa to Canada or to the U.S. And if you are facing removal, we are here to help you resolve your immigration problems. Our job is to help open the door so that you, your relative, friend or employee can live, work or study in Canada or the US.
The first step towards moving to Canada or the US is to get an assessment of your specific situation. Call us today at 1.877.296.0874 for an assessment to see if you are eligible to move to Canada or the US, or fill out our online assessment form.