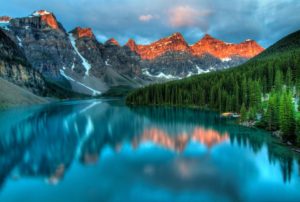 What It's Like to Live in Alberta as a Newcomer
The province of Alberta has a little bit of everything: from mountains and lakes, to arts and culture. The two largest cities in the province are Calgary and Edmonton, however Alberta is filled with smaller cities and towns each with something special to offer. Throughout Alberta, you can find unique places to dine, exciting nightlife, shopping and farmer's markets, and some of the world's most incredible natural beauty. Many immigrants who have chosen to move to Alberta have settled in Calgary and Edmonton, two of the most diverse cities in Canada with large immigrant populations.
Calgary

The city of Calgary is the major urban center of the southern half of Alberta, and is known for its high quality of life, surrounding natural beauty, sun, and entrepreneurial, community involved, and well-rounded population. As of 2017, immigrants made up about 30% of Calgary's population, the majority coming from the Philippines, followed by India, China, Pakistan, and Nigeria. The city has embraced the growing multiculturalism through ethnic festivals and diverse dining options. One of the qualities that makes Calgary an attractive option for immigrants is its growing economy, due in part to the influx of newcomers.
Dining and Nightlife
For dining and nightlife, locals frequent 17th Avenue SW, Mission, Kensington/Sunnyside, and Downtown Calgary. Each of these areas has its own character, but all have a variety of pubs, nightclubs, sports bars, wine bars, and lounges. They are the places to go for nights out with family or friends, live music, food, drinks, and entertainment.
Shopping
The areas mentioned above for dining and nightlife also happen to provide some of the best shopping in Calgary. 17th Avenue SW is the place to go clothes shopping, while Fourth Street in Mission is known for its home décor and fashion shops. Downtown Calgary has a number of shopping centres like The Core, TD Square, and Hold Renfrew, and Kensington/Sunnyside is full of stores and cafes. Additionally, if you are looking for a mall, Chinook Centre, CrossIron Mills, and Deerfoot Mall are the places to go.
Calgary also has quite a few different farmer's markets, some open year-round and others only seasonal.
Festivals, Arts & Culture, Sports
Festivals
The main festival you should know about if you are going to live like a Calgarian local, is the Calgary Stampede. This rodeo attracts visitors and locals alike, and is known as the "Greatest Outdoor Show on Earth".  Aside from the well-known stampede, Calgary also is home to events like the Fourth Street Lilac Festival –which celebrates the arrival of the Mission lilacs; Marda Gras—a New Orleans cultural celebration in Marda Loop; and Afrikadey!—a celebration of African culture.
Calgary also hosts the Calgary Folk Music Festival every year at Prince's Island Park, Reggaefest, and the Calgary International Blues Festival.
Arts & Culture
There are many opportunities to experience dance, visual arts, music, and theater throughout Calgary. Whether you are interested in taking classes, or seeing a performance or exhibit, Calgary has much to offer. See a ballet performed by Canada's third largest company, the Alberta Ballet, or take a class at one of Calgary's many dance studios. Visit the Glenbow Museum for an art exhibit, or listen to the Calgary Philharmonic Orchestra. See professional theater at the Epcor Center for the Performing Arts, or take in some amateur theater at Theatre Junction or Loose Moose Theatre.
Sports
If you like to play or watch sports, you will find many options in Calgary. Golf, in particular, happens to be a very popular pastime in Calgary, and there are many courses throughout the city. Calgary also has a large amount of parkland for residents to use, places to canoe and kayak, as well as recreational sports teams to join for both children and adults.
If you are planning to immigrate to Calgary, it is important that you know some of Calgary's most beloved sports teams. The number one professional sport you may want to know about is hockey, and in Calgary the National Hockey League (NHL) team is the Calgary Flames. Lacrosse and football are also widely watched, with teams like the Calgary Roughnecks and Stampeders, respectively.
Edmonton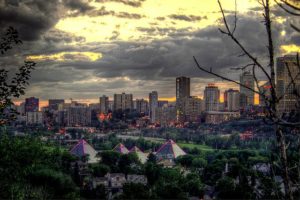 Edmonton is the capital of the province of Alberta, and is located on the North Saskatchewan River. It is known as Canada's Festival City, has many eclectic neighborhoods with unique restaurants, and has a great deal of green space. It is also one of Canada's sunniest cities!
As of 2011, Edmonton had the sixth largest immigrant population in Canada, following Toronto, Vancouver, Montreal, Calgary, and Ottawa-Gatineau. In 2017, the Edmonton Journal reported that Edmonton had become one of Canada's most linguistically diverse cities.They noted a 31% increase from 2011 to 2016 of people speaking a language other than English or French as their mother tongue. Tagalog, for example, was reported to be the mother tongue of 3.3% of the total population.
Dining and Nightlife
Downtown Edmonton has much to offer in regard to food and nightlife. From a casual English pub that has vegan food and calmer dance club feel, to a Mexican restaurant combined with a tiki bar and dance floor, Edmonton has something for everyone. You can even line dance to country music at Cook County Saloon or listen to live bands and comedy shows, play trivia, and dance at The Black Dog Freehouse. Of course, there are also a wide variety of local restaurants with exciting cuisine.
To experience the best of one of Edmonton's neighborhoods, head to Ritchie Market breweries and coffee shops for a true local experience in a bikeable and walkable setting. Edmonton is actually known to have 275 kilometers of paths and sidewalks for cyclists and walkers. Another neighborhood frequented by locals is Strathcona, offering a farmer's market, restaurants, pubs, theater, and live entertainment. Oliver also has much to offer in regard to dining.
Shopping
In downtown Edmonton and it's surrounding neighborhoods, you won't find a shortage of places to shop. A must visit, however, is the West Edmonton Mall which is the biggest mall in North America. It has over 800 stores and attractions (including an amusement park, water park, skating rink, and Marine Life center), and hosts big-name concerts and free yoga! Oliver, one of Edmonton's many neighborhoods, is known for its shopping, along with downtown Edmonton and other nearby areas.
Locals in Edmonton love farmers markets, and there are a huge variety throughout the city seasonally and year round. They have something for everyone—from fresh, local produce, to jewelry and art—that you could spend hours browsing, and enjoying the food trucks and live entertainment that often take place. A few of the markets are the City Market on 104th, the St. Albert Outdoor Farmers' Market, and the Callingwood Farmers' Market which run between May and November, and Old Strathcona Farmers' Market that runs year round. These run on weekends (some Saturday and some Sunday) while there are others that run on certain weekdays.
Festivals, Arts & Culture, Sports
Festivals
Edmonton hosts a huge number of events and festivals throughout the year, and is a diverse city with a great deal of culture and excitement. A few of these include the summer Blues on Whyte Block Party, the Edmonton Dragon Boat Festival, the Edmonton International Jazz Festival, the Servus Edmonton Marathon, and the EPCOR River Fest. The Edmonton International Fringe Theatre Festival in the Strathcona neighborhood is another exciting event that attracts locals from all neighborhoods annually.
Arts & Culture
The Northern Alberta Jubilee Auditorium hosts the Alberta Ballet, as well as touring theater performances. Rogers Place is another popular venue that hosts world renowned performers, including comedians and musicians. These are just two of Edmonton's concert and performance venues that any newcomer should see. For those interested in the visual arts, the Art Gallery of Alberta offers countless exhibitions, along with programming for children and adults.
Sports
Whether you are visiting Edmonton or settling there, you should definitely take advantage of their sports teams. One of the most exciting sports to watch in Edmonton (and Canada as a whole) is hockey. The Edmonton Oilers are Edmonton's professional National Hockey League team, and a must see if you can. As popular as hockey is, lacrosse is actually Canada's national sport, and the Edmonton Rush of the National Lacrosse League are another exciting team to watch.
Edmonton also offers the opportunity for locals to participate in sports. You can join a local league, which are offered for children and adults, or enjoy some recreational skating at the West Edmonton Mall ice rink.
St. Albert
Just outside of Edmonton is St. Albert, voted one of the best places to live in Canada for many years. St. Albert offers a lively downtown area in the Perron District, with art, culture, shops, and dining, as well as a farmer's market, festivals and events, parks and natural areas. It has all this and more, all while being only a short distance from Alberta's capital of Edmonton.
Weekend Getaways in Alberta
Living in Alberta, you may only be a few hours drive away from some incredible provincial parks. People travel from across the globe to visit Banff, Lake Louise, and Jasper—all located throughout the Rocky Mountains and right in Alberta. Elk Island National Park is another outdoor getaway less than an hour from Edmonton. All are a popular destination for families, groups of friends, couples, or individuals living in Canada, and have much to offer throughout the four seasons, including boating, hiking, skiing, and sightseeing.
Are you interested in living in Alberta in 2021?
If so, Contact VisaPlace today. All our cases are handled by competent and experienced immigration professionals who are affiliated with VisaPlace. These professionals consist of lawyers, licensed paralegals and consultants who work for Niren and Associates an award winning immigration firm that adheres to the highest standards of client service.
Ready for the next step? Book your 1 on 1 consultation now or call us at 1-888-317-5770.
Have a Question related to your Immigration Needs?
Click here to fill out the FREE Immigration Assessment form below and get a response within 24 hours to see if you're eligible.
The assessment form should take approximately 5-7 minutes to complete. We will get back to you within one business day to let you know if we are able to help.