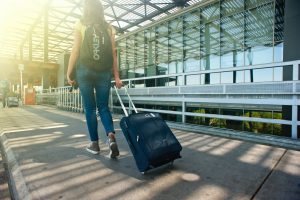 Compared to past travels, your airport experience will be unique. The COVID-19 travel restrictions have been removed, and Toronto Pearson, Canada's main airport, has witnessed a substantial rise in passengers. More people are coming through Pearson as Canada's main airport than at any other point during the epidemic, and many of the government's health screening procedures are still in place.
Arriving in Canada on an International Flight
Upon arrival, some foreign travellers encounter lengthier wait times than planned. This is due in part to protracted border processing periods. Prior to the pandemic, clearing an international arriving passenger took an average of 15-30 seconds for a Canada Border Services Agency (CBSA) officer. The processing time at Canada's borders has increased by two to four times due to the government of Canada's COVID-19 health screening questions.
As a result, passengers may need to be kept on their aircraft or in designated waiting rooms within the terminals during the late afternoon or nighttime peak hours, when a high number of planes arrive close together.
Travellers coming to Canada from any country who meet the COVID-19 vaccination requirements may be randomly selected for COVID-19 testing at the airport. Those that are chosen will not be obliged to quarantine while awaiting the results of their tests.
Departing Canada on an International Flight
We recommend arriving at the airport at least 2 hours before your flight for leaving domestic travellers. Please arrive at least 3 hours ahead of time for foreign travellers departing.
To make things easier for you, you may check-in online from home and then use one of our touchless kiosks at the check-in lobby to drop off your luggage. You should expect additional inquiries and documentation requirements from your airline during check-in. Check with your airline to see what the exact criteria for your trip are.
Arrive 3 hours before an international flight.
Do You Need Canadian Immigration Help?
If so, Contact VisaPlace today. All our cases are handled by competent and experienced immigration professionals who are affiliated with VisaPlace. These professionals consist of lawyers, licensed paralegals, and consultants who work for VisaPlace Legal an award-winning immigration firm that adheres to the highest standards of client service.
Ready for the next step? Book your 1 on 1 consultation now or call us at 1-888-317-5770.
Have a Question related to your Immigration Needs?
Fill out the FREE Immigration Assessment form and get a response within 24 hours to see if you're eligible.
The assessment form should take approximately 5-7 minutes to complete. We will get back to you within one business day to let you know if we are able to help.