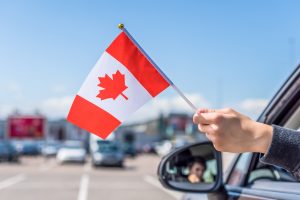 In 2021, Canada's immigration systems faced considerable difficulty and delays as a result of policy changes in reaction to the COVID-19 epidemic. Many candidates inside Canada were provided new immigration programs and policies in 2021 to make it easier for them to stay, but many applicants outside Canada were banned from consideration due to the country's COVID-19 regulations. With the new year here, it's time to think about what to anticipate in terms of Canadian immigration in 2022.
In 2022, Canada hopes to welcome 411,000 new immigrants. While this would ordinarily not be a problem for Canada, the government has failed to process applications in a timely way over the last year, resulting in a backlog of 1.8 million applications awaiting processing. If Immigration, Refugees and Citizenship Canada (IRCC) can get its backlog under control, 2022 might be a record-breaking year for Canadian immigration.
Changes to Canadian Immigration in 2022
Travel Restrictions May Be Lifted
Travel restrictions were put in place for Canada during the beginning of the COVID-19 pandemic. The lifting of such restrictions would help newcomer flows recover, which would give the country's economy a much-needed boost.
Express Entry Draws for 2022
While Express Entry drawings continued during the pandemic, they were considerably different from pre-pandemic trends in 2021. Prior to the epidemic, an Express Entry lottery was held once every two weeks, with candidates from all Express Entry programs being considered. Express Entry drawings have only invited provincial nominees since September 15, 2021. Due to the current backlog of immigration petitions, this is the case. IRCC is currently unable to issue significant numbers of Invitations to Apply due to a lack of capacity to handle new files. In a recent communication, IRCC stated that all program Express Entry drawings will restart after the backlog is decreased – however they did not specify how long this will take or how much of the backlog they must clear.
CRS Score May Decrease
It is anticipated that the lowest CRS score might decrease as Canada will hopefully restart CEC draws. Due to COVID-19, we saw the lowest CRS score this past year was quite high, so we expect that it will decrease in 2022 in order to meet ITA targets.
New NOC Changes
In 2016, the NOC system received its most recent structural change. The 2021 modifications are scheduled to go into effect in the fall of 2022. This is to provide candidates the opportunity to learn more about the revised application procedure.
The structure of the NOC was changed in three fundamental ways to make it more consistent, accurate, and versatile. Because the existing skill type categories NOC A, B, C, and D are no longer used to identify your expertise, these changes may have an impact on your Canada Express Entry application. A new TEER system has been introduced instead.
2021-2023 Immigration Levels Plan
IRCC aims to welcome 401,000 new permanent residents in 2021, 411,000 in 2022, and 421,000 in 2023 through the Government of Canada's Immigration Levels Plan.
Each year, the annual number of newcomers will increase, which will inevitably make the highest level of immigration levels in modern history for Canada.
Are You Interested in Immigrating to Canada in 2022?
If so, Contact VisaPlace today. All our cases are handled by competent and experienced immigration professionals who are affiliated with VisaPlace. These professionals consist of lawyers, licensed paralegals, and consultants who work for VisaPlace Legal an award-winning immigration firm that adheres to the highest standards of client service.
Have a Question related to your Immigration Needs?
Fill out the FREE Immigration Assessment form and get a response within 24 hours to see if you're eligible.
The assessment form should take approximately 5-7 minutes to complete. We will get back to you within one business day to let you know if we are able to help.