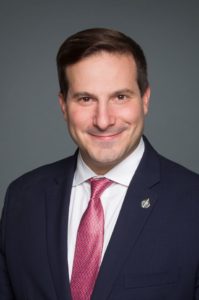 Marco Mendicino was named Canada's Minister of Immigration, Refugees and Citizenship by Prime Minister Justin Trudeau. Mendicino was appointed to Trudeau's new cabinet on November 20, 2019. Previously, this position was held by MP Ahmed Hussen who has now been named the Minister of families, children and social development. This new role means that Mendicino is responsible for representing the immigration policies proposed by the Liberal Party, which is led by Trudeau. After the 2019 election, the Liberal Party won a minority government which means that they will need to work with the other parties to make their immigration policy ideas a reality. These proposed programs include raising the immigration levels, creating a Municipal Nominee Program, waiving citizenship fees and making the Atlantic Immigration Pilot program a permanent program.
Mendicino is the son of immigrant parents and has a proven track record in community aide. He was first elected to as Member of Parliament for Eglinton- Lawrence in 2015. He is currently a resident of Toronto. In his first term, he focused on local public transit improvements, affordable housing and youth programming. Mendicino has served as the parliamentary secretary to the Minister of Infrastructure and Communities. In this role, he worked on criminal justice reform and reconciliation with Indigenous peoples. He continues to advocate for better laws for organized crimes. He has also been involved in promoting green and social infrastructure in Toronto and Canada. While a Minister he has been involved with volunteering the John Wanless Public School, Heart & Stroke Canada, COSTI Immigrant Services, Toronto Symphony Volunteer Committee and the North Toronto Soccer Club. Before he became a Member of Parliament, he worked as a prosecutor with a focus on organized crime and terrorism. He has also worked at the Law Society of Ontario, served as President of the Association of Justice Counsel and worked as an adjunct professor at the Osgoode Hall Law School. Mendicino is now entering his second term as an MP after winning his seat again in the October 2019 election.
Are You Interested in Immigration to Canada?
If so, Contact VisaPlace today. All our cases are handled by competent and experienced immigration professionals who are affiliated with VisaPlace. These professionals consist of lawyers, licensed paralegals, and consultants who work for Niren and Associates an award-winning immigration firm that adheres to the highest standards of client service.
Ready for the next step? Book your 1 on 1 consultation now or call us at 1-888-317-5770.
Have a Question related to your Immigration Needs?
Click here to fill out the FREE Immigration Assessment form below and get a response within 24 hours to see if you're eligible.
The assessment form should take approximately 5-7 minutes to complete. We will get back to you within one business day to let you know if we are able to help.