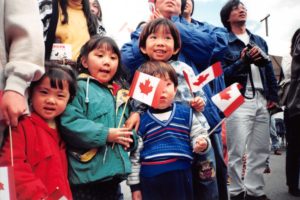 To manage the outbreak of the coronavirus disease (COVID-19), officials have announced travel restrictions that will limit travel to Canada. These restrictions will affect immigration, refugees, citizenship and passport applications at this time and differentiate by the situation. The latest updates on Canadian immigration can also be found here
Processing Times
Like always, the processing time when going through any of the program applications listed above will reflect on how many visa applications have been received. Your processing time starts the day your application is received and ends when a decision is made but it very important that your application is complete.
What Makes an Application Complete?
When you have answered all of the questions on the application form and submitted all necessary documents, your application is complete. If you forget to send a document, your application may be returned to you which can result in delayed processing of your application may be refused.
Use the Check Processing Time Tool to get a more accurate processing time depending on your unique process.
Workers, Students, and Visitors
All temporary foreign workers are exempt from travel restrictions and can travel to Canada by air or land.
If you're an international student who has a valid study permit or was approved for a study permit on or before March 18, 2020, you are exempt from the travel restrictions.
If a foreign worker or international student is traveling by air, you need to pass a health check conducted by airlines before you're allowed to board your flight. Anyone who shows symptoms of COVID-19 will not be allowed to enter Canada by air. When you arrive in Canada your health will be assessed before you leave the port of entry. You must isolate for 14 days even if you have no symptoms.
Until further notice, visitors are not allowed to travel to Canada even if you have a valid visitor visa or electronic travel authorization. If you are already in Canada and hold a valid visa or eTA, you are able to stay. There are some visitors who are exempt from this change in Canadian travel.
Refugees, Claimants, and Sponsors
Refugee resettlement programs have been impacted by Canadian travel restrictions. If you've sponsored refugees, The Resettlement Operations Centre will contact you if the refugees you're preparing to receive won't be traveling. There will be no additional arrivals or new flight bookings until further notice.
Until April 13th, Canada will no longer interview refugee claimants or process refugee protection claimant document renewals in-person. If you had an interview scheduled, you will be contacted with rescheduled interview information.
Immigration Applications
Applications That Have Already Been Approved
If your application was approved on or before March 18, 2020, but you haven't traveled to Canada yet, you're exempt from the travel restrictions.
All in-person permanent resident landing appointments have been canceled until April 13, 2020. All landing appointments will be done by telephone or rescheduled for later.
Use this IRCC web form if your permanent resident application is already approved but you can't travel to Canada before your documents expire OR you are able to travel but need guidance on your next steps.
Applications That Are Still Being Processed
No application in progress will be closed or refused because of documents missing due to COVID-19. You will be given 90 days to complete these steps including your biometrics.
To keep everyone safe, Service Canada has temporarily stopped collecting biometrics until further notice. All appointments have been canceled and will have to be rescheduled. If you are unable to give biometrics at a Service Canada location, don't go to another location.
If you're affected by these travel restrictions and­ want to withdraw your permanent residence application, use the web form to let the IRCC know. You will be issued a refund if you withdraw your application within 24 hours of submitting it and if the application hasn't started processing.
Canadian and Citizenship Applicants
All citizenship events have been canceled across Canada until April 13, 2020, including citizenship ceremonies, citizenship tests/retests, hearings, interviews, and citizenship events in temporary offices.
Although these events have been canceled and may result in delays, the good news is that citizenship applications are still being accepted and a 90-day extension is granted to turn in required documents.
Permanent Residents
If you're a landed permanent resident and have no symptoms of COVID-19, you're allowed to travel to Canada. If you are showing symptoms of COVID-19 you will not be allowed to enter Canada by air but you can still enter at a land border.
If your permanent residence application is approved before March 18, 2020, but you haven't landed yet, you're also exempt from the travel restrictions and allowed to come to Canada.
ALL OF THESE INDIVIDUALS MUST FOLLOW THEIR ARRIVAL WITH A 14-DAY ISOLATION.
As a permanent resident, your immediate family members are exempt from the travel restrictions and allowed to come to Canada and must show that they're coming to Canada for essential reasons and not reasons that are optional or discretionary, such as tourism, recreation or entertainment.
Passport and Travel Documents
If you need to travel urgently, you can get passport and/or travel document services if you
have a serious illness
must tend to the serious illness or death of someone you know
will have financial problems from the loss of a job or business
must travel for humanitarian reasons
You must wait to submit your passport application if
you don't meet the above criteria for urgent travel
you're having symptoms such as coughing, difficulty breathing or a fever
you're in isolation
To get urgent travel document services, fill out the web form.
Non-urgent passport and travel document services are suspended until further notice.