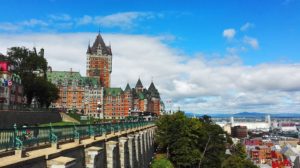 The Certificat d'Acceptation du Quebec (Quebec Acceptance Certificate, CAQ) is required for most temporary foreign workers and students who intend to reside in the province of Quebec.
Students Who Need a CAQ
To get your CAQ, you will need to meet certain conditions. Studying has to be your main activity and you need to maintain a valid hospitalization and health insurance for you and your family members who are accompanying you. If you do not follow these requirements, it could jeopardize whether you receive your CAQ and could hinder you from completing your studies.
Most individuals who intend to study in Quebec must first obtain a CAQ before applying to the Canadian federal immigration authorities for a Canada Study Permit. In order to apply for a CAQ for a study program, the applicant must first obtain a letter of acceptance from a Designated Learning Institution. Certain individuals may be excused from the requirement for a CAQ before applying for a study permit. Otherwise, if an individual is excused from the requirement for a study permit, he or she may also be exempt from the requirement for this certificate.
Individuals who are intending to pursue a study program of six months or less do not need a CAQ or a study permit. However, it is important to verify if a Temporary Resident Visa (TRV) is required, in order to be able to enter Canada as a visitor.
Temporary Foreign Workers Who Need a CAQ
A Quebec-based employer hiring a foreign skilled worker on a Temporary Work Permit must secure a CAQ as well as a Labour Market Impact Assessment (LMIA).
The CAQ certifies that the Quebec Ministère d'Immigration, Diversité et Inclusion (MIDI) concurs with Service Canada's assessment that hiring a foreign worker will have a neutral or positive effect on the local labour market.
Temporary Workers Exempt from the CAQ
Some foreign nationals who wish to work temporarily in Québec are not required to obtain a Certification d'acceptation du Québec (CAQ – Québec Acceptance Certificate) for temporary work:
Keep in mind, just because foreign worker has not obtained a CAQ does not exempt the employer from applying for a Labour Market Impact Assessment from the Government of Canada.
CAQ Processing Time
Average application processing time is three to four weeks when the application is complete (i.e. once the MIFI has received your online application AND your accompanying paper documentation, and provided no documents are missing). Note that the timeframe is the same whether you drop off your application in person or mail it. Presence in Canada does not provide preferential treatment. Mailing times must also be factored into the processing period.
Make sure you send a complete application and error-free information right from the start. Note that you cannot send documents in separate packages; if documents or information is missing, you will receive a refusal letter, and will then need to send the missing documents. The above scenario will result in increased processing delays.   
Why Hire Our Lawyers to Help with Your CAQ
Figuring out if you need a CAQ to work or study in Quebec can be confusing. By hiring an immigration professional from VisaPlace, you will save time and have an ease of mind knowing you aren't missing any key elements throughout the process of applying for your Certificate of Acceptance of Quebec.
Book a consultation today with an immigration professional!