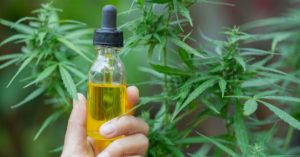 Canada legalized cannabis in 2018 which brought out many questions about bringing cannabis over the border between Canada and the US. There have been many legal issues with bringing cannabis into the US from Canada but recently a new issue has been raised. Recently a woman was banned from entering the US because she had CBD on her.
Issues With Bringing CBD Into the United States
US Border Patrol stopped a woman from entering the US because they found CBD oil in her backpack. Cannabidiol (CBD) oil is taken from the cannabis plant with many health benefits without the psychoactive part. CBD oil is made by extracting CBD from the cannabis plant, then diluting it with a carrier oil like coconut or hemp seed oil. It's gaining momentum in the health and wellness world, with some scientific studies confirming it may ease symptoms of ailments like chronic pain and anxiety.
Previously, people have been banned from entering the US when they've admitted to smoking cannabis before but this has been the first time CBD has come into question. This unnamed woman who was stopped for CBD was threatened to be banned from the US for life. Even though cannabis is legal in a few states travellers are prohibited from carrying cannabis and its related products over the border.
The woman said she was asked by border patrol officers if she had any "leafy greens" on her person. The officer did not say the word "cannabis," she said.
"I said no because, to me, 'leafy greens' is like marijuana, the actual bud, things that you smoke, recreational drugs. I use CBD daily and it's not psychoactive, it can't get me high at the dosage that I've been told to take it at," she told CBC News. The woman in question said she knew loose cannabis and joints are prohibited at the border — there are signs at the border warning travelers not to bring them — but she didn't realize the same rules apply to the CBD oil she uses for medicinal purposes.
Frequently Asked Questions About Canada Legalizing Weed
Consequences of Bringing CBD Across the Border
Currently bringing any type of cannabis product across the border can lead to being barred from entering the US forever. The woman was fined $500 for failing to declare the oil, fingerprinted and subsequently denied entry to the U.S. If she ever hopes to enter the US again she will need to apply for a waiver which is $600. The U.S. government demands a criminal record check from the RCMP, letters of reference, a letter of remorse for past wrongs, proof of employment and documentation outlining a person's residence and work history.
Banned for life
$500 fine for failure to declare
$600 waiver for denied entry
Letter of remorse for past wrongings
Are You Worried About Bringing CBD Over the Border or Have Been Denied Entry to the US Because of CBD?
Whenever someone is denied entry at the border, the individual is not only unable to enter the U.S., but he or she faces an unexpected trip back home (not to mention feelings of humiliation and depression). However, in addition to exploring opportunities to waive inadmissibility, a legal expert can help ensure that an individual is not wrongfully denied entry in the first place.
Ready for the next step? Book your 1 on 1 consultation now or call us at 1-877-296-0874.
Have a Question related to your Immigration Needs?
Click here to fill out the FREE Immigration Assessment form below and get a response within 24 hours to see if you're eligible.
The assessment form should take approximately 5-7 minutes to complete. We will get back to you within one business day to let you know if we are able to help.