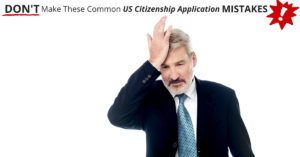 Are you worried that your US citizenship application won't be accepted? It can be daunting, especially because any errors you make could end up affecting your chances of becoming an official US citizen. We've put together five of the biggest mistakes you can make on your US citizenship application, so you know exactly what to avoid.
1. Failing to disclose criminal records
You might think that keeping any previous criminal convictions or arrests to yourself might increase your chances of being accepted, this is a huge mistake. According to Avvo.com, "Even if your conviction was for a misdemeanor or petty offense, it still most likely falls within the ambit of the question requesting details or any arrest of accusation of criminal wrongdoing." Your fingerprints are processed by USCIS, so your interviewing officer will know if you have lied on your application.
2. Taking long trips abroad
Many people don't understand that in order to become a US citizen, they are required to maintain a certain physical presence and continuous residence in the United States. Trips lasting 180 days or more could mean you have disrupted your residence in the United States, and you may need to provide proof that you've taken steps to maintain your domicile during those trips. Failure to provide proof may mean your US citizenship application is denied despite passing your exam.
3. Applying too early
If you've had your green card for five years, you can apply for US citizenship three months early before your fifth anniversary of permanent residence. If you've been married as a legal permanent resident for three years to a spouse who is a US citizen, and has been for at least that amount of time, you may also apply for US citizenship after those three years.
However, individual circumstances can differ, and if you've taken long trips abroad or haven't been living with your spouse for that length of time, you should perhaps think twice about applying early.
4. Failing to send the US citizenship application fee, or sending the wrong amount
According to USA.gov: "Applications submitted without the fee or with the wrong amount will be rejected. The applicant is asked to resubmit the application with the correct fee."
5. Submitting a US citizenship application before meeting certain requirements
If you want to take the civic portion of your test in your native language, you must first satisfy all the age and residency requirements at the time of submitting your citizenship application, otherwise your application may be rejected.
Avoid any Mistakes and Delays with Legal Help
Every year, thousands of people apply for US citizenship, and among those, some citizenship applications are rejected due to simple errors. If you want your citizenship application to be flawless, you should consider hiring an immigration lawyer.
The legal team at VisaPlace have seen it all, and have helped thousands of people with their challenges and questions, leading to successful US immigration. Getting started is easy. Use our free eligibility assessment form or contact us here to speak to one of our US immigration experts, and trust our expertise to guide you to the best outcome.