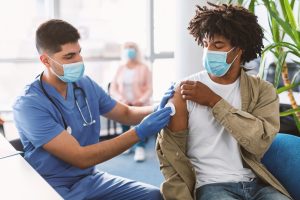 It was announced that starting April 1, 2022, those who are fully vaccinated will not need a negative COVID-19 test to enter Canada. This change is for those traveling by air, land, and sea. As the country begins to get used to relaxed changes, Canadian officials announced that some fully-vaccinated travelers may be selected at random to take a COVID-19 but will not need to quarantine awaiting their results.
Unvaccinated and partially vaccinated travelers who are eligible to enter Canada will still have to take a COVID-19 molecular test on arrival and on day 8. These travelers will still be required to quarantine for 14 days. Foreign travelers arriving in Canada for reasons such as tourism are still required to be fully vaccinated.
What Is Still Required for Vaccinated Travelers
In addition to this travel restriction change, Canada indicated that all travelers will continue to be required to complete the ArriveCAN questionnaire online or through the mobile app before entering Canada. While Prime Minister Justin Trudeau said Wednesday that after two years of restrictions, Canadians are "pretty damn tired" of the pandemic, health officials were cautious, saying the virus would be "with us for a very long time." Download the ArriveCAN App on iOS or Google Play.
Check out Canada's latest COVID-19 travel restriction updates!
Do You Need Immigration Help?
If so, Contact VisaPlace today. All our cases are handled by competent and experienced immigration professionals who are affiliated with VisaPlace. These professionals consist of lawyers, licensed paralegals, and consultants who work for VisaPlace Legal an award-winning immigration firm that adheres to the highest standards of client service.
Ready for the next step? Book your 1 on 1 consultation now or call us at 1-888-317-5770.
Have a Question related to your Immigration Needs?
Fill out the FREE Immigration Assessment form and get a response within 24 hours to see if you're eligible.
The assessment form should take approximately 5-7 minutes to complete. We will get back to you within one business day to let you know if we are able to help.