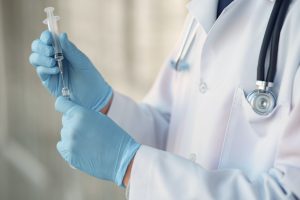 The US Centers for Disease Control and Prevention (CDC) announced a new policy on August 24, 2021, requiring foreign persons seeking a green card in the United States to be completely vaccinated against COVID-19. This new policy is said to take effect on October 1st, 2021.
The CDC is in charge of assuring that non-citizens entering the United States do not have any health problems that might endanger the country's public health as a whole. In doing so, all green card applicants must show proof of COVID-19 immunization as part of their Form I-693 medical exams starting October 1, 2021. Anyone who refuses to be vaccinated and does not qualify for one of the agency's few exemptions will be considered inadmissible to the US.
How Do I Show Proof of Vaccination?
As proof of vaccination, green card applicants may provide an official vaccination record or a copy of a medical document stating that they were vaccinated against COVID-19. According to the CDC, self-reported vaccination doses will not be accepted in the United States unless they are accompanied by written evidence from a doctor or "other appropriate medical personnel."
Individuals must be vaccinated with either the Pfizer-BioNTech, Moderna, or Johnson & Johnson vaccine. The CDC will also accept different COVID-19 vaccines as they are recommended by its Advisory Committee on Immunization Practices.
A negative COVID-19 test will NOT be accepted as proof of vaccination and will not allow you admissable to the US through a green card.
Exemptions from Receiving the Vaccine
The CDC guidance lists the reasons for exemption from this requirement as follows:
Applicants who are too young to receive the vaccine
Applicants who have a medical contraindication to the vaccine
Applicants who do not have access to one of the approved COVID-19 vaccines
Applicants can also apply for a waiver of the vaccine requirement on religious or moral convictions grounds
Exemptions based on religious or moral convictions are considered on an individual basis. USCIS will determine if an individual waiver is granted, not the civil surgeon or CDC.
What Happens If I Refuse a COVID-19 Vaccine?
COVID-19 is now classified as a "Class A inadmissible condition" by the CDC, and failing to vaccinate against a vaccine-preventable disease makes a person ineligible for a visa.
If an applicant declines one or more doses of a COVID-19 vaccination series and is unable to get a waiver, the authorized civil surgeon will certify that the immunization requirements are incomplete. As a result, the applicant will very certainly be found inadmissible and ineligible for lawful permanent residence status.
Need An Immigration Lawyer to Help With Your US Green Card Application?
If so, Contact VisaPlace today. All our cases are handled by competent and experienced immigration professionals who are affiliated with VisaPlace. These professionals consist of lawyers, licensed paralegals, and consultants who work for VisaPlace Legal an award-winning immigration firm that adheres to the highest standards of client service.
Ready for the next step? Book your 1 on 1 consultation now or call us at 1-888-317-5770.
Have a Question related to your Immigration Needs?
Fill out the FREE Immigration Assessment form and get a response within 24 hours to see if you're eligible.
The assessment form should take approximately 5-7 minutes to complete. We will get back to you within one business day to let you know if we are able to help.