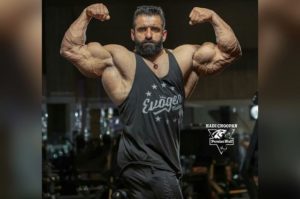 Hadi Choopman, or as some fans may know him as the "Persian Wolf," qualified for an event called Mr. Olympia, which is to take place in the United States from September 12-15. This event is considered to be the Super Bowl of pro bodybuilding and helped launch the career of Arnold Schwarzenegger, who won it seven times.
Choopan won the International Federation of BodyBuilding event last month in Vancouver — with no visa difficulties from Canadian authorities. However, with the United States, things have been different because he hasn't yet been able to get a visa approval from the agency.
There is currently a travel ban against the entry of Iranian nationals into the US, and time may have run out for Hadi Choopan. Bob Cicherillo, a former bodybuilder and emcee for Mr. Olympia since 2005 told the New York Post, "This is a governmental thing between the US and Iran" and "we support Hadi Choopan as an IFBB pro athlete. He is a member in good standing".
Dan Solomon, a vice president at the company stated, "Mr. Olympia is actively working with immigration lawyers to explore and pursue all possible legal options available for Hadi to join the incredible roster of competitors taking the stage at this year's event".
What is the Travel Ban in the US
The Travel Ban indefinitely suspends the issuance of both immigrant and non-immigrant visas to applicants from Iran, Libya, Somalia, Syria, Yemen, North Korea, and Venezuela.  President Donald Trump issued Presidential Proclamation 9645 (Travel Ban 3.0) in September 2017 after the first two iterations of his Travel Ban were blocked by the judicial system.  The third iteration of the Ban currently remains in effect after being upheld by the Supreme Court on June 26th, 2018.
How Hadi Choopman Was Affected by the Travel Ban
Over 135 million people are impacted by the Travel Ban with the majority being Iranian nationals.  Among the seven nations included in the Travel Ban, Iran had the largest total number of legal entrants into the U.S. (310,182) between 2006 and 2015.  Two-thirds of those entrants arrived in the U.S. on temporary visas.
Is There Anything I Can Do If I Am Affected by the Travel Ban?
The third iteration of the Travel Ban includes a provision that permits consular officers to grant waivers on a case-by-case basis if the applicant meets specific criteria. Unfortunately, very few waivers are being granted, even when applicants meet the Proclamation's criteria.  The State Department admitted that only 2% of applicants have been "cleared for a waiver" as of April 30th, but it is unclear how many have actually received said waivers.
Have You Been Refused Entry to the US?
If so, Contact VisaPlace today. All our cases are handled by competent and experienced immigration professionals who are affiliated with VisaPlace. These professionals consist of lawyers, licensed paralegals, and consultants who work for Niren and Associates an award-winning immigration firm that adheres to the highest standards of client service.
Ready for the next step? Book your 1 on 1 consultation now or call us at 1-888-317-5770.
Have a Question related to your Immigration Needs?
Click here to fill out the FREE Immigration Assessment form below and get a response within 24 hours to see if you're eligible.
The assessment form should take approximately 5-7 minutes to complete. We will get back to you within one business day to let you know if we are able to help.