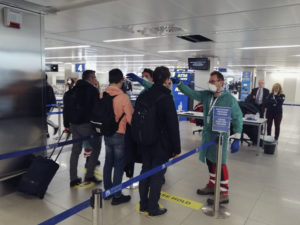 Since the Coronavirus crisis broke nationwide, travel bans and restrictions have been instated. As we have done our best to keep you updated with the latest with these changes, it's important to know how these travel bans are affecting foreign nationals based on circumstance. There are some individuals who fall under the exemption criteria:
Immediate Family Members of Canadian Citizens
A foreign national who is an immediate family member of a Canadian citizen or permanent resident is exempt from the travel restrictions and permitted to travel to Canada if they have the required travel documents.
Travel Documents to prove Canadian citizenship can include:
Canadian Passport
Citizenship certificate, citizenship card or provincial or territorial birth certificate
Canadian permanent resident card
Canadian permanent resident travel document
visa-exempt foreign passport and IRCC Special Authorization
Documentation showing their relationship to that family member can include:
marriage or common-law status certificate
birth certificate
Confirmation of Permanent Residence for the family class
other document(s) supporting an immediate family connection
Family Reunification
Foreign nationals who are traveling to Canada for the purpose of reuniting immediate family members are exempt from current travel bans to Canada. To be exempt, authorization in writing is required by an officer designated under IRPA or an employee of Global Affairs Canada.
In order for a foreign national to be eligible under this exemption, there must be two or more foreign nationals who are immediate family members of each other, and authorizing one or more of them to enter Canada must allow them to be reunited.
International Students
Foreign nationals who hold a valid Canadian study permit or were issued a later of invitation dated on or before March 18, 2020, are exempt from this travel ban. The students were already enrolled or accepted to a designated learning institution before travel restrictions were put in place.
These individuals can present a valid study permit or a letter of introduction from the IRCC dated on or before March,18th 2020 to airlines in order to be exempt.
Temporary Workers
Certain foreign nationals who are authorized to travel to Canada for work would be exempt from these travel bans, including those who were establishing or made arrangements before the restrictions were put in place. This also includes new workers who are coming to Canada to be employed in critical industries, such as agriculture, food processing, health, transportation, and emergency services.
These individuals can present a valid work permit or a letter of introduction from the IRCC dated on or before March,18th 2020 to airlines in order to be exempt.
Pre-exempt permit work :
There are 3 scenarios where one could be exempt from travel restrictions without obtaining a work permit :
providers of emergency services, including medical services, for the protection or preservation of life or property (including firefighters)
students in a health field, including as a medical elective or clinical clerk at a medical teaching institution in Canada, for the primary purpose of acquiring training, if they have written approval from the body that regulates that field
foreign nationals seeking to enter and remain in Canada solely to become a member of a crew of a means of transportation, including a vessel engaged in international transportation
These foreign nationals can self-identify to airlines by presenting alternative documentation which generally includes a letter of invitation from a relevant organization in Canada.
Permanent Resident Visa Holders
Foreign nationals who have been approved for permanent residence and who were eligible to travel to Canada to become landed permanent residents on or before March 18, 2020, are exempt from Coronavirus travel bans.
Allowing those individuals entry for the purposes of landing contributes to meeting immediate family reunification and labour market needs reduces the accumulation of an inventory of approved permanent residents who will need to travel to Canada once restrictions are lifted.
Those that fall under this category can self-identify to airlines by presenting a permanent resident visa or a COPR document.
Accredited Officials
The travel ban exempts foreign nationals who are exempt from the requirement to obtain a temporary resident visa and their immediate family members. Note that the broader definition of immediate family members continues to apply.
The individual must hold a passport that contains a diplomatic acceptance, a consular acceptance, or an official acceptance issued by the Chief of Protocol for GAC on behalf of the Government of Canada.
Protected Persons
Some protected persons are exempt from the travel ban as well. A protected person has refugee protection is conferred under subsection A95(1) and whose claim or application has not subsequently been deemed to be rejected under subsection A108(3), A109(3) or A114(4).
The only document that may be presented to provide proof of this status is a Canadian refugee travel document issued by IRCC.
National Interests
Foreign nationals whose presence in Canada, in the opinion of the Minister of Foreign Affairs, the Minister of Immigration, Refugees and Citizenship or the Minister of Public Safety and Emergency Preparedness, is in the national interest and would be exempt from travel restrictions.
This exemption may only be applied by any of the 3 ministers listed. The decision for the exemption will be made by the respective minister. The IRCC Case Management Branch will manage these situations in accordance with existing processes.
Transit Passengers
Foreign nationals in transit through Canada to another country are also exempt. Given the interplay between the interim order under the Aeronautics Act and related emergency orders under the Quarantine Act, the airport of arrival into Canada must have the facilities to permit the foreign national to connect to their destination without the foreign national having to present themselves for examination to enter Canada.
Crew Members
Foreign national crew members, including those arriving by air to join a vesselm are exempt
Airlines will permit boarding for seafarers traveling to Canada to join a ship's crew if they are holding a seafarer's identity document supplemented by a passport or other seafarer documentation, including proof of employment on a vessel at a Canadian port.
This exemption does not affect regular travel documents and permit requirements for foreign nationals under IRPR.
Canadian Citizens Traveling on a Foreign Passports
Canadian citizens are encouraged to carry a valid Canadian passport at all times. Exceptionally, Canadian citizens may travel to Canada on a visa-exempt foreign passport with a special authorization. When this special authorization is issued, IRCC will produce a confirmation email approving the special authorization.