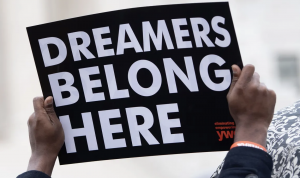 Many individuals part of the DACA program are currently in limbo with immigration laws and looking for ways to avoid deportation. For many years, these individuals also known as 'Dreamers' have been fighting for the right to stay in the United States once they turn 21 years old.
The DACA (Deferred Action for Childhood Arrivals) program invites undocumented immigrants who arrived in the US at a young age to gain protection from deportation and work authorization. These individuals are usually brought to the US illegally as a child and identify themselves as Americans. These individuals have only known the US as they have no memory of or connection with the country where they were born. The problem is, millions have been brought to the US under these circumstances but face complications once they get older. Some say they didn't even know or understood they were considered undocumented immigrants until they were in their late teens. Although these immigrants may have been living in the US their whole lives, it's very hard for them to gain permanent residency once they are of age. This has affected many young adults trying to go to college, get a driver's license, get a job, and some are even deported.
Learn more about the DACA program requirements, application process, and renewing process here: What Is DACA?
Build Back Better Act for Undocumented Dreamers
On November 19, 2021, US Government officials passed the Build Back Better Act that would benefit millions of immigrants who have lived, worked, and contributed to the US economy for an average of 20 years. A few weeks about that bill was passed and currently waiting for the Senate vote. More specifically, the Build Back Better Act would include deportation protection, longer-term work permits, expanded health care, easier access to education, and the ability for undocumented residents to travel home to visit their families which thousands are looking forward to. We look forward to hearing moredetails about this policy soon!
Do You Need Immigration Legal Representation?
If so, Contact VisaPlace today. All our cases are handled by competent and experienced immigration professionals who are affiliated with VisaPlace. These professionals consist of lawyers, licensed paralegals, and consultants who work for VisaPlace Legal, an award-winning immigration firm that adheres to the highest standards of client service.
Ready for the next step? Book your 1 on 1 consultation now or call us at 1-888-317-5770.
Have a Question related to your Immigration Needs?
Fill out the FREE Immigration Assessment form and get a response within 24 hours to see if you're eligible.
The assessment form should take approximately 5-7 minutes to complete. We will get back to you within one business day to let you know if we are able to help.