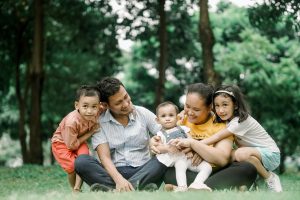 The first step in the family-based green card procedure is to file the I-130 petition with US Citizenship and Immigration Services. Filing the I-130 petition puts you in line for a family sponsorship-related green card as one becomes available. Unless you are the spouse, parent, or unmarried child (under the age of 21) of a U.S. citizen, your place in line is decided by your "priority date," which is essentially the day USCIS received your I-130 petition. Typically, petitions are handled in the order in which they are received. See below to learn more about the wait times for specific family sponsorship categories.
US Family Sponsorship Processing Time
The processing time for your I-130 petition usually will take anywhere from 5-19 months. This will depend on the family relationship and the USCIS field office that receives your form.
Immediate Relative
There is an infinite number of immigrant visas available for immediate family members (spouse, children, and parents) of US citizens, and approval can be acquired in 5 to 19 months. Because there is no visa restriction for the immediate related category, there is a minimal wait. The following visa categories are available for immediate relatives:
IR-1: Spouse of a US citizen
IR-2: Unmarried child under 21 years of age of a U.S. citizen
IR-3: Orphan adopted abroad by a U.S. citizen
IR-4: Orphan to be adopted in the U.S. by a U.S. citizen
IR-5: Parent of a U.S. citizen who is at least 21 years old
Family Preference
For family preference visas (for example, siblings), processing times can range anywhere from 13.5 months to 20 or more years. The following visa categories are available for family preference:
Family First Preference (F1): Unmarried sons and daughters of U.S. citizens, and their minor children, if any.
Family Second Preference (F2): Spouses, minor children, and unmarried sons and daughters (age 21 and over) of LPRs.
Family Third Preference (F3): Married sons and daughters of U.S. citizens, and their spouses and minor children.
Family Fourth Preference (F4): Brothers and sisters of U.S. citizens, and their spouses and minor children, provided the U.S. citizens are at least 21 years of age
Tips for Fastest Processing Time
In general, family-based green card applicants can speed up the process by having the petitioner properly complete the I-130 petition and provide all needed documentation. Any changes to your personal information on your application, such as your name, contact information, or family situation, should be reported to immigration.
Beneficiaries who are F2A candidates have another choice. The sponsor will be able to speed up the procedure if they become a citizen while still waiting for a green card. Your sponsor will need to write a letter to the National Visa Center stating that he or she has become a citizen in this circumstance. This will allow your green card application to be handled as an immigrant visa.
Top Questions About Family Sponsorship Processing Times
How Long Does It Take to Get a Family Sponsorship Visa to the United States?
On average, the I-130 filed by your sponsor usually takes between 5 to 19 months to be processed. The USCIS processes the petition on a first-come, first-served basis. Your sponsor can expedite the process by submitting the form as early as possible.
Is the US Still Processing Visitor Visa Applications?
Yes! The United States is still accepting family sponsorship applications. We recommend booking a consultation with a licensed immigration consultant to determine which route is best for you.
How Can I Get a Family Sponsorship Visa Fast in the US?
Speak with an immigration consultant who can find the fastest and most efficient way for you to get a family sponsorship visa. They can ensure there are no mistakes in your application.