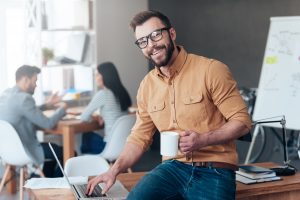 The tech industry in Canada is rapidly growing and always looking to invite skilled IT professionals to come settle. With the right work experience, skills, and education, as a tech worker, you have a couple of options to make Canada your permanent home. The good news is, because these occupations are in high demand, it's fairly easy! Canada is the ideal location for those holding IT experience as the tech ecosystem is growing rapidly. This has made Toronto ranked number three within tech talent in North America. Let's explore these popular pathways for IT professionals!
Not an IT professional? See if we've covered your occupation here!
Job Description (NOC 2233/22302)
People with jobs in the information technology (IT) field use computers, software, networks, servers, and other technology to manage and store data. IT occupations can vary significantly from one company to another. There are many job titles that fall under the IT professional category and each job description will vary.
Salary Average in Canada: $47k to $100k CAD per year
Other Related Occupations:
21311 | Computer engineers (except software engineers and designers)
21231 | Software engineers and designers
20012 | Computer and information systems managers
22220 | Computer network and web technicians
21223 | Data Analyst and data administrators
21234 | Web developers and programmers
IT Professional Requirements in Canada
For most IT-related occupations, one must obtain a bachelor's degree but some employers prefer a master's degree in computer science, information science, or a related field. Most Canadian employers also want to see at least 3 years of IT experience, with 5 to 10 years of experience for higher-level positions.
Canadian Immigration Options for IT Professionals
Express Entry
Express Entry is the most popular way to obtain Canada PR by being a skilled worker. There are 3 programs within Express Entry which include the Federal Skilled Worker Program (FSWP), Federal Skilled Trades Program (FSTP), and Canadian Experience Class (CEC). This allows those with IT experience to join the Express Entry pool in hopes to be invited to apply for a PR card.
Provincial Nominee Programs (PNPs)
Provincial Nominee Programs also referred to as PNPs is another category within the Express Entry but specifically for skilled workers interested in settling in a particular territory or province. The two PNP streams to note for IT professionals are Ontario's and British Columbia's Tech Pilot. Once you receive a PNP nomination, you will then have a great chance of being selected within an Express Entry draw.
Start-Up Visa
The Canadian government created the Start-Up Visa Program to attract entrepreneurs who are looking to operate a business in Canada. It has been an attractive option for IT professionals and has different selection criteria from the other skilled worker programs. To be eligible for this program you must have a qualifying business, a letter of support from a designated organization, meet the language requirements, and have enough money to settle!
Global Talent Stream
The last great option for tech talent looking to immigrate to Canada is through the Global Talent Stream. This pathway is temporary but many individuals have adjusted their status to permanent residency once they've received Canadian work experience. The Global Talent Stream enables Canadian employers to hire IT workers and bring them to Canada within four weeks. To be eligible, the individual must be skilled in one of the seven qualifying target sectors and be able to earn a salary that meets the fair work high-income threshold or be a high-performing recent PhD, Masters, or Honors, graduate.
Interested In Immigrating to Canada as an IT Professional?
If so, Contact VisaPlace today. All our cases are handled by competent and experienced immigration professionals who are affiliated with VisaPlace. These professionals consist of lawyers, licensed paralegals, and consultants who work for VisaPlace Legal, an award-winning immigration firm that adheres to the highest standards of client service.
Ready for the next step? Book your 1 on 1 consultation now or call us at 1-888-317-5770.
Have a Question related to your Immigration Needs?
Fill out the FREE Immigration Assessment form and get a response within 24 hours to see if you're eligible.
The assessment form should take approximately 5-7 minutes to complete. We will get back to you within one business day to let you know if we are able to help.