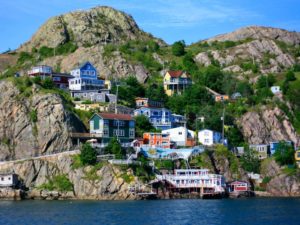 What It's Like to Live in Newfoundland and Labrador
Newfoundland and Labrador are especially known for being very friendly. The majority of the people here are known for their creativity, unique language, and being warm and welcoming. Since this province is located on the edge of North America, the population tends to be somewhat isolated from the rest of Canada. The people from Newfoundland and Labrador have taken the heritage of the French, English, Irish, and Indigenous ancestors and created its one of a kind culture. The architecture, art, and towns express a rich, colorful living environment. Uniquely blending old-world traditions with modern conveniences, Newfoundland and Labrador is a dynamic and vibrant province that distinguishes itself as one of the best places in the world to live, study, work, and play. Local culture is celebrated through art, food, social gatherings, and music. With many immigration paths to Newfoundland and Labrador including the Newfoundland and Labrador PNP (NLPNP), are is everything you need to know about making the move!
Top 4 Reasons to Move to Newfoundland and Labrador
Why the Locals Love Newfoundland and Labrador!
The Newfoundland and Labrador Quality of Life

Clean air and freshwater surround those who live here, and the crime rates are among the lowest in Canada and North America as a whole. Newfoundland and Labrador hold a well-balanced, comfortable population density which goes hand-in-hand with the reason it is one of the safest places in the country to live!

The Newfoundland and Labrador Community

Individuals who live in Newfoundland and Labrador tend to lead very relaxed lifestyles, not to mention the economy here is significant in leading the nation's total economic growth. They offer affordable housing, a safe and clean environment, a relaxing atmosphere, world-class health, and educational facilities, and endless career opportunities.

The Newfoundland and Labrador Education

The Newfoundland and Labrador English School District represents all English speaking students and schools in Newfoundland and Labrador.

The District includes:

approximately 65,300 students;
252 schools and six alternate sites;
over 8,000 employees. The Department of Education and Early Childhood Development is responsible for early childhood learning and development, the K-12 school system, and public libraries with the objective of building an educational community in Newfoundland and Labrador that fosters safe, caring, and inclusive learning environments for all children and youth in early childhood settings, regulated child care, and family resources centers, and pre-school to grade 12.

Newfoundland and Labrador Food

Newfoundland and Labrador are known for seafood, wild game, and delicious traditional meals, not to mention the province has earned a new reputation for mouth-watering culinary experiences by world-class chefs.
Living in Newfoundland and Labrador
Cost of Living
The cost of living in Newfoundland and Labrador is very attainable compared to other cities in Canada. With the highest rate of homeownership, you can expect to pay 300,000 on average for a home! Overall Newfoundland and Labrador offer affordable prices across the board including food, transportation, school, and more!
Dining and Food Culture
For centuries, Newfoundland's cuisine was borne of necessity and scarcity—for the most part, people ate what they could grow or catch themselves. But the North Atlantic island's culinary isolation forced its cooks to perfect its staple foods, making the best of their hearty local ingredients: cod, wild game, berries, and cold-climate vegetables. Now a new generation of Newfoundland chefs, fueled by renewed local pride and the island's growing economy, is bringing the lessons learned in their grandmothers' kitchens to St. John's restaurants. With local restaurants and chefs winning national and international awards, it's clear that food culture in Newfoundland and Labrador has never been more delicious. World-class, local chefs have opened new and exciting dining spots, featuring top-notch homegrown ingredients. Then there are the "CFAs" (Come-From-Aways), bringing their own culinary traditions and flavors. While St. John's is the hotspot, there are celebrated restaurants across the province as well as regular food and music festivals.
Breweries and Bars:
1. Yellowbelly Brewery
2. Port Rexton Brewery and Tap Room
3. Mill Street Brew Pub
4. Quidi Vidi Brewing Company
5. Scudrunner Brewing Limited
Restaurants:
1. Bacalo
2. Raymond's Restaurant
3. Newfound Sushi
4. Bistro on Roe
5. Java Jack's Restaurant and Gallery
Shopping
As you explore the city of St John's and other cities in Newfoundland, stroll along some of the oldest streets in the New World, and visit the many shops, boutiques, and unique art galleries.
Newfoundland and Labrador have plenty of delightful gift shops and specialty shops, most of which take place in the popular city of St. John's. In St. John's, you can be sure to find the astonishing Mirabella by Elizabeth Burry Studios which is an excellent seaside studio & artisan shop of hand-made art & gifts. A very interesting shop in St. John's called "The Heritage Shop Duckworth Street" offers some of the best in local art, craft, and literature that reflect the history and heritage of Newfoundland and Labrador. It is also a non-profit shop, so all of the proceeds from the Heritage Shop stores go toward projects that present this province's history.
Cultural Activities & Events
Newfoundlanders and Labradorians love to have a good time. Live music of every kind is just around the corner, particularly along George Street in St. John's, and at bars and festivals across the province. You can find festivals and events in honor of music, food, fish, film, theatre, and crafts. Not to mention workshops, seminars, walking tours, and open performances that will educate and entertain.
The theatre scene is vibrant, with more than a dozen troupes performing everything from smaller community shows to full-scale musical extravaganzas.
The Trails Tales Tunes Festival in Gros Morne National Park offers a wonderful mix of outdoor entertainment and activities. If you're looking for world-class cuisine to go with your entertainment, Elliston's Roots, Rants and Roars, and The Gathering in Burlington combine celebrity chefs with music and storytelling.
Folk music is big in this area. The Newfoundland and Labrador Folk Festival, which has been running for more than 35 years, takes place at Bannerman Park in St. John's. With almost as long a history, the family-oriented Fish, Fun and Folk Festival is held in the charming seaside town of Twillingate.
Throughout the travelling season, many regions of the province host festivals of music and food. Chefs from around the world provide a culturally rich dining experience, often at the edge of the ocean. Roots, Rants and Roars, home of the King of Cod competition, takes place in Elliston every September, while Burlington's The Gathering is a festival of fire, food, and music on the Baie Verte Peninsula.
Are you interested in living in Newfoundland and Labrador?
If so, Contact VisaPlace today. All our cases are handled by competent and experienced immigration professionals who are affiliated with VisaPlace. These professionals consist of lawyers, licensed paralegals and consultants who work for Niren and Associates an award winning immigration firm that adheres to the highest standards of client service.
Ready for the next step? Book your 1 on 1 consultation now or call us at 1-888-317-5770.
Have a Question related to your Immigration Needs?
Click here to fill out the FREE Immigration Assessment form below and get a response within 24 hours to see if you're eligible.
The assessment form should take approximately 5-7 minutes to complete. We will get back to you within one business day to let you know if we are able to help.