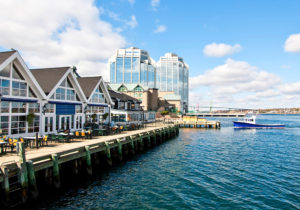 What It's Like to Live in Nova Scotia for Newcomers
The province of Nova Scotia sometimes takes a back seat to the bigger provinces of Canada like Quebec and Ontario but residents prefer it this way! Whether you prefer the energy and culture of a city or the slower pace of a rural living, Nova Scoti's equality of life is one of the best in North America. For an individual or families living in Nova Scotia it has a ton to offer such as the inexpensive real estate, the low cost of living, untouched natural environment and friendly people. The Nova Scotia government says 2017 was a banner year for attracting immigrants to the province, with nearly 4,000 newcomers calling Canada's Ocean Playground home.
Learn about life in Nova Scotia below:
Top 5 Reasons Immigrants Move to Nova Scotia
Why the Locals Love Nova Scotia!
The Nova Scotia Ocean

No matter where you are standing in Nova Scotia you're not more than half an hour away from the ocean. Some say this is a luxury but natives have come acustom to the coastal lifestyle. Beyond just the ocean theres beaches, cliffs, boulders, and marine life.

The Nova Scotia People (Nova Scotians)

Just like other small towns, you know many of the people who live here although there are about 1 million people in the province. Anyone who visits Nova Scotia always goes home thinking about how nice, generous, and hospitable the people of Nova Scotia were. Nova Scotian's are known around the world for being some of the kindest people so who wouldn't want to be neighbors with the nicest people in the world?

The Nova Scotia Breweries

Another thing that Nova Scotians are known for are their ability to drink. The breweries in Nova Scotia take great pride in their beer and entertaining atmosphere. Garrison Brewery is an independent micro-brewery that makes amazing craft beer with all-natural ingredients. Alexander Keith Brewery is Nova Scotia's most famous export. The Propeller Brewing Company is the best-selling microbrewery in Nova Scotia, so there are plenty of great breweries to work, drink and relax at.

The Nova Scotia Seafood

If theres one thing that everyone who lives in Nova Scotia knows is that it is a seafood hub. Many people visit Nova Scotia for its world-renowned seafood which makes it another livable luxury for those who live here. Depending on the season you can watch fishing boats sail in and unload lobsters, crab, scallops, fish of all sorts, then see them prepare them for a meal right in front of you. Since Nova Scotia is almost surrounded by water locals always known at least one, two or two dozen fishermen.

The Nova Scotia Education

Nova Scotia is one of Canada's foremost sea coast destination for studying. The province upholds excellence educational institutions paired with their relaxed lifestyle. When studying in Nova Scotia for college students get top value for their money by reciting a high-quality education while paying tuition fees that are among the lowest in the English-speaking world. There are 10 universities located in Nova Scotia.
Immigrants Living in Halifax
According to the 2011 census, the ethnic origins of Halifax include: Canadian (38%), English (34%), Scottish (30%), Irish (25%), French (18%), German (12%), Dutch (4%), North American Indian (3%), and Welsh (2%). Respondents were able to choose more than one option. The city also has between 1,000 and 7,000 people with Italian, Polish, Lebanese, Chinese, African, East Indian, American, Norwegian, Spanish, Jewish, and Greek ethnicities, among others.
Where Newcomers Eat and Drink in Nova Scotia
Halifax is known for their freshly season inspired meals. The chefs in Halifax take their ingredients seriously which is why they always pick ingredients that are in season, local, and fresh. Halifax's food and drink culture are very distinct as they jump on trends very fast as it is a tourist town. This is great for locals because they're consistently provided with the outside world spin on their small city. Unmistakeably, Nova Scotia's greatest category for food and drinks are craft beer and seafood.
Breweries and Bars:
1. Lower Deck
2. Stillwell
3. Lion & Bright Cafe and Wine Bar
4. The Carleton Music Bar & Grill
5. Halifax Alehouse
Restaurants:
1. Gio
2. Chives Canadian Bistro
3. The Kitchen Table at Ratinaud
4. The Bicycle Thief
5. The Brooklyn Warehouse
Where Newcomers Shop in Halifax
Living in Halifax is a treat for those who love to shop because Halifax is the largest shopping destination in Atlantic Canada.
"Halifax's charming Spring Garden Road is lined with a wide assortment of restaurants, coffee houses, and more than 200 retail stores including many independently owned, specialty shops. The Spring Garden Road area consists of nine city blocks, a block of which borders on and includes the main entrance to the historic Halifax Public Gardens. Pop into Uncommon Grounds for a coffee and a sweet treat or a hand-paddled ice cream creation to fully enjoy your stroll through these beautiful Victorian Gardens. The Museum of Natural History and the Halifax Citadel National Historic Site are located just a short walk from the Spring Garden Road shopping district as well.
In Halifax's North End, the Hydrostone Market is a European-style, historic collection of shops, restaurants and services with local cuisine and unique boutiques. You will find everything from custom, hand-built furniture and hand crafted jewellery to artisan breads, flavoured oils and vinegars and cuisine from around the world." – NovaScotia.com
There are also several shopping experiences in Halifax that take place right on the waterfront including the popular Halifax Seaport Farmer's Market, which is the oldest operating Farmers' Market in North America.
Events in Halifax
If you haven't noticed yet, Nova Scotians love to have fun by drinking, eating, exploring the city, and shopping but what they also love are their festivals. Every year there is an abundance of festivals in Halifax focused around food, drink, lifestyle, and music.
Halifax Pride Festival: Halifax's Pride Festival is one of the premiere Pride Festivals in all of Canada, drawing over 120,000 attendees every year. Join in the fun with a parade through downtown Halifax in support of the LGBTQ community. The event is held every year in July.
TD Halifax Jazz Festival: The oldest Jazz Fest in Atlantic Canada, this musical event is one of the best around! In the past, this festival has been titled Best Festival by The Coast. Definitely an event you should not be missing.
Halifax Pop Explosion: an annual festival that presents over 150 artists, comedians and speakers in more than 15 venues across the city. HPX has a long-standing tradition of presenting the best in new and innovative music from across Canada and the world.
Sports in Halifax
Being active in Halifax isn't too hard since there are so many outdoor activities available. Many people bike everywhere, kayak in the rivers through Halifax, sail the big oceans surrounding Nova Scotia, and more! Beyond just outdoor activists there are also a few team sports that Nova Scotians are very prideful for.
Hockey: The Halifax Mooseheads are a Canadian major junior ice hockey club in the Quebec Major Junior Hockey League (QMJHL). The team is based out of Halifax since 1994 and play at the Scotiabank Centre. You'll see the locals repping their favorite green and red jersey on the streets.
Basketball: The Halifax Hurricanes are a professional basketball team based in Halifax. The team competes in the National Basketball Leauge of Canada (NBL) and are part of the Atlantic Division. The Halifax Hurricanes also play at the Scotiabank Centre just like the Mooseheads
Soccer: After many years of trying to get a professional soccer team in Halifax this year, 2018, it has been approved. The name of the team is yet to be announced but the Halifax CPL team will participate in the Canadian Premier League and play at the Wanderers Ground.
Are you interested in living in Nova Scotia?
If so, Contact VisaPlace today. All our cases are handled by competent and experienced immigration professionals who are affiliated with VisaPlace. These professionals consist of lawyers, licensed paralegals and consultants who work for Niren and Associates an award winning immigration firm that adheres to the highest standards of client service.
Ready for the next step? Book your 1 on 1 consultation now or call us at 1-888-317-5770.
Have a Question related to your Immigration Needs?
Click here to fill out the FREE Immigration Assessment form below and get a response within 24 hours to see if you're eligible.
The assessment form should take approximately 5-7 minutes to complete. We will get back to you within one business day to let you know if we are able to help.