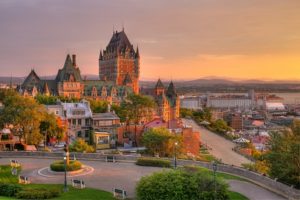 What It's Like to Live in Quebec as a Newcomer
The province of Quebec is the second most populous province of Canada so why exactly have so many people chosen to live in Quebec? For so many reasons! Quebec is lush with beautiful landscapes, rich history, vibrant professional and a mature sports, some of the best chefs in the world, week long parties and festivals, outdoor activities, and more! Just some of these reasons are why immigrants have chosen to move to Quebec. Quebec welcomes approximately 45,000 immigrants each year. With the province's economy growing and the birth rate declining, immigration to Quebec can only be expected to grow in the future. Learn about life in Quebec below:
City of Montreal
Montreal is the most populous city in Quebec and the second-most populous city in Canada. Montreal is known to be quite unique compared to most North American cities. When living in Montreal you experience a modern city filled with all the conveniences, shopping, dining and nightlight but also get a taste of Europe with a glimpse of Canada's history and French heritage. In 2011, a total of 846,645 immigrants accounted for 23% of Montreal's population, and they represented 11% of Quebec's population. In 2011, Haitians, Italians and French were the largest groups of Montreal's foreign-born population. Other top source countries of immigration were Morocco, Algeria, China, Lebanon, Viet Nam, Romania, the Philippines, Greece, United States, India, Egypt and Portugal. Montrealers (those who live in Montreal) have been known to always have a good time and approach things with joie de vivre which means: exuberant enjoyment of life.
Where Newcomers, Immigrants and Locals Eat in Montreal
Montreal is known to be a food lover's heaven. The most popular Canadian dish, poutine, was created in the province of Quebec so its no secret that Montreal is filled with some of the best poutine in the world. Beyond just poutine Montreal has an amazing food scene. Since Quebec's official language is French, there is a prevalent French cuisine. There has been said to have over 30,000 French expats living in Montreal so its no wonder that the French food is the most popular scenes in Montreal. Little Italy is a neighborhood in Montreal that is booming with Italian restaurants filled with old-school cafes, pizzerias, Italian grocery stores and traditional bakeries. There are also recent uproar of Greek food in Montreal with plenty of tavernas to choose from. Lastly, Montreal is home to large Middle Eastern communities which has contributed to the food industry with their Syrian cuisine.
National Geographic's top picks in Quebec
French: La Salle a Manger
Italian: Impasto
Greek: Estiatorio Milos
Middle Eastern: Damas
Shopping in Montreal
Many people have named Montreal as the trendiest city in Canada. The streets of Montreal are filled with fashion forward people. Since Montreal has such a European influence you can understand why the sophistication of European fashion fills most of the shopping centers.
Ste-Catherine St: the main retail center of Montreal. Ste-Catherine St has many main stream department stores as well as bars and restaurants. Simons is the most popular store in Ste-Catherine because it is three floors packed with everything needed in a household from clothes to dishes.
Saint-Denis St & Saint-Laurent Blvd: directed towards a younger crowd. This shopping area has more than just the trendiest boutiques but it is also filled with restaurants, designers, vintage stores, bars and nightclubs.
Sherbrooke St: This is a popular street that runs parallel with St. Catherine. This is a very upscale version of shopping which contains all the main designers, antique stores, high-end luxury items, and art galleries.
Events in Montreal
Montreal has over 90 festivals that fill up the seasonal calendar. Some of the cities events close down almost the entire city, blocking off traffic and putting massive stages in the middle of the streets. Montrealers love to celebrate, once again living up to their motto joie de vivre.
Festival International de Jazz de Montreal: With over 1000-plus concerts, North America's top music fest keeps getting bigger and better, with world music, rock and pop sharing the program with jazz legends over 10 days in late June and early July.
Osheaga Festival: In early August, Parc Jean-Drapeau is transformed into a giant stage for one of the city's grand rock festivals. Over 100,000 music fans turn up to witness the powerhouse lineup of performers, which in recent years has included heavy hitters like Jack White, Interpol, Stromae and Vampire Weekend.
Grand Prix du Canada: Hear the engines roar during electrifying Formula One races. It's usually held in early or mid-June on the Circuit Gilles-Villeneuve. It brings huge crowds, so book accommodation well in advance. Don't forget your earplugs.
Montreal Sports
Montreal is best known for being home to the Montreal Canadiens of the National Hockey League, which are currently the city's only team in the Big Four sports leagues. Other professional teams in Montreal include the Montreal Alouettes of the Canadian Football League and the Montreal Impact of Major League Soccer. Montreal is also well known for hosting the annual Formula One Canadian Grand Prix, the NASCAR Nationwide Series NAPA Auto Parts 200, and the Grand Am Rolex Sports Car Series Montreal 200.
Hockey: Montreal is home to the Montreal Canadiens, a professional ice hockey team. The Canadiens are members of the Atlantic Division of the Eastern Conference of the NHL. The teams official name is Lee Club de hockey Canadien. The team is frequently referred to in English and French as the Fabs. Their rival teams are the Toronto Maple Leafs and the Boston Bruins. The Habs home arena is in the middle of Montreal at the Bell Centre.
Football: Montreal is home to the Montreal Alouettes, professional Canadian football team. The Alouettes play in the East Division of the Canadian Football League (CFL). They play at the Percival Molson Memorial Stadium which is located downtown Montreal.
Soccer: Montreal is home to the Montreal Impact, a Canadian professional soccer team. The Impact places for the Eastern Conference in Major League Soccer. The Montreal Impact places at the Saputo Stadium in Montreal. The Saputo Stadium is the second-largest soccer-specific stadium in Canada.
Quebec City
Strolling the streets of Old Québec is like journeying back in time. The walkable city has a unique European feel and is extraordinarily well preserved after 400 years. In all, there were 32,880 immigrants living there, or 4.3 per cent of the population (2011 National Household Survey) and, between 2006 and 2011, 10,665 immigrantsarrived in the city of Québec, or 1.4 per cent of the immigrant population at that time. Whether you have a few hours or a few days, you'll love the look and charm of Québec City's lovely historic neighborhoods. .
Where Newcomers, Immigrants and Locals Eat in Quebec City
Just like Montreal, Quebec is highly known for their poutine but best believe that there is a large food scene beyond the poutine. There are thousands of restaurants and bistros that look like a quaint old French village but inside offer the highest culinary experience. There are tons of good places to eat in the Old Town of Quebec City. Also, don't feel too intimidated by the French language because many eateries will have menus in English or will be happy to translate.
Acorrding to the Montreal Eater, the top 10 Essential Quebec City Restaurants are as follow:
Chez Biceps BBQ
IX Pour Bistro
La Taqueria
Legende par la Taniere
Buffet de l'Antiquaire
L'Initiale
La Korrigane
Le Clocher Penche
Fromagerie des Grondines et ses amis
Tora-Ya Ramen
Shopping in Quebec City
Shopping within Quebec is an experience for the whole family. The streets and shopping centers are placed within picturesque neighborhoods that you'll want to leave.
"Petit Champlain District: North America's oldest shopping district will win you over with its colourful decorative art shops and sophisticated designer and artisanal boutiques. From its cobblestone pedestrian streets, you'll admire the inviting windows of historic homes in a romantic environment. In the winter, Quartier Petit Champlain turns into a magical fairyland decked out in snow, with holiday decorations and twinkling lights.
Rue Saint-Jean: You'll fall in love with rue Saint-Jean's European vibe! Outside the fortifications, you'll find delightful original shops, artisanal boutiques, and specialty food shops. Inside the ramparts, you'll discover clothing and souvenir shops galore. It's the perfect place to enjoy yourself while you hunt for unique finds!
The Old Port and Place Royale: The narrow streets and architecture of the Old Port are steeped in history. In this enchanting setting and on rue Saint-Paul, you'll find antique stores, artisanal boutiques, and art galleries. Experience the charm of this relaxing, pedestrian-friendly district.
Art District: Stroll down avenue Cartier in the heart of the Art District and you'll pass a hundred or so places of business. Enjoy the lively atmosphere, gourmet food shops, and fashionable and specialty boutiques of this less-touristy area.
Saint-Rich District: The more contemporary setting of the new Saint-Roch district is worth a visit, with its hip designer boutiques on rue Saint-Joseph. Nouvo Saint-Roch features unique, modern, and avant-garde stores. Here you'll find the famous Benjo—the only toy store of its kind in the province of Québec—plus luxury boutiques, cooking items, and stores for gourmet food lovers."
described by Quebec City and Area.
Events in Quebec City
Festival d'Été de Québec
Quebec City completely transforms early July every year: the city center is bursting with energy, the terraces are jam-packed, and people venture out every night to attend the numerous shows in one of North America's largest music festivals. Spanning 11 days, over 300 shows are played on 10 stages, including at the largest venue, the Plaines d'Abraham, where up to 85,000 people gather to listen to the biggest names in music.
Quebec Winter Carnival
Winter is an integral part of our identity—so naturally, we have a festival to celebrate it! Taking place in the middle of February, often the coldest month of the year, the Carnival draws us out of our cozy homes to take part in dozens of outdoor activities, including the spectacular canoe race on the St. Lawrence River and the famous night parades. It's a fun family-oriented event and a great way for visitors to experience our winter.
New France Festival
If you happen upon the Old Port in Quebec City in early August, you'll find yourself traveling 400 years in the past. This is the New France Festival, celebrating the historical period when the first European settlers arrived in America. Period costumes, public performances, guided historical tours, and parades will be enjoyed by young visitors, history-buffs, or all those who enjoy a festive atmosphere.
Are you interested in living in Quebec?
If so, Contact VisaPlace today. All our cases are handled by competent and experienced immigration professionals who are affiliated with VisaPlace. These professionals consist of lawyers, licensed paralegals and consultants who work for Niren and Associates an award winning immigration firm that adheres to the highest standards of client service.
Ready for the next step? Book your 1 on 1 consultation now or call us at 1-877-296-0874.
Have a Question related to your Immigration Needs?
Click here to fill out the FREE Immigration Assessment form below and get a response within 24 hours to see if you're eligible.
The assessment form should take approximately 5-7 minutes to complete. We will get back to you within one business day to let you know if we are able to help.