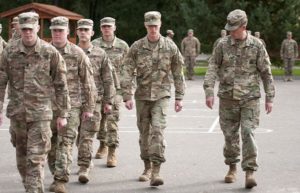 As of May 6, 2020, the USCIS announced that US service members are now able to file for citizenship through an N-400 Form also known as an Application for Naturalization.
Due to the current Coronavirus pandemic, this is only available to apply through online filing. Online filing allows an individual to submit forms electronically, check the status of their case and receive notices from USCIS. USCIS is using innovation and technology to meet the needs of applicants, petitioners, and employees. Regardless of the paper or electronic format of an application or petition, USCIS is committed to ensuring a secure and efficient process for all.
Those currently serving or who have served in the armed forces may be eligible to apply for naturalization under special provisions of the Immigration and Nationality Act (INA). Under these special provisions, the naturalization application fee is waived for military members and veterans, as are some of the requirements. Until now, U.S. service members and veterans filed a paper Form N-400. Provisions of the law extend some immigration benefits to the family member of a service member.
Individuals can file 10 USCIS forms online:
Form AR-11, Alien's Change of Address Card
Form G-639, Freedom of Information/Privacy Act Request
Form I-90, Application to Replace Permanent Resident Card
Form I-130, Petition for Alien Relative
Form I-539, Application to Extend/Change Nonimmigrant Status
Form N-336, Request for a Hearing on a Decision in Naturalization Proceedings (Under Section 336 of the INA)
Form N-400, Application for Naturalization
Form N-565, Application for Replacement Naturalization/Citizenship Document
Form N-600, Application for Certificate of Citizenship
Form N-600K, Application for Citizenship and Issuance of Certificate Under Section 322
There is more to learn about gaining citizenship in the US and what to know about the naturalization process. Let Visaplace's immigration professionals guide you in the right direction when it comes to your immigration needs.