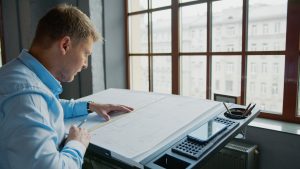 Are you interested in immigrating to Canada and currently working and hold experience as an architect in your home country? You're in luck! Canada is looking for individuals who hold architectural skills.
Job Description (NOC 2151/21200)
Architects work in the construction industry designing and buildings new spaces in and around them. They also help restore and conserve old buildings and develop new ways of using existing buildings. They are involved in construction planning from the earliest stages right through to completion.
Salary Average in Canada: $80k CAD per year
Canadian Architect Requirements
To work in Canada as an architect, a CACB Academic Certification is needed before making the move to the Internship in Architecture Program and then will need to take an official exam.
If you are interested in moving to Canada as an architect and you have practiced as a licensed/registered architect in a foreign jurisdiction but would like licensure/registration in Canada, you may be eligible for the Broadly Experienced Foreign Architects Program, as an alternative pathway.
Express Entry
The best option for Architects looking to move to Canada to pursue being an architect is applying for Express Entry. Express entry is a point-based system that ranks you within the Express Entry pool. When invited, individuals are able to migrate through employment and gain permanent residency.
Your Express Entry CRS Score is based on the following:
Age
Level of education
Language proficiency
Work experience
Let's find out your Express Entry CRS Score!
Canada Is a Great Place to Live
Canada is a great country to live in as an architect. The major cities in the country (i.e. Toronto, Vancouver, and Calgary) rate towards the top of the most livable cities in the world. There are a number of reasons for this.
For one thing, the people are generally friendly, there is lots of open space and many of the cities are filled with large parks. Canada's larger cities have more parks than a lot of other large cities around the world, due to the abundance of space. Calgary has even been voted as the cleanest city in the world.
Also, there are plenty of outdoor activities to do very near the major cities. For instance, Calgary is just an hour's drive from the Rocky Mountains. Vancouver also sits very near the spectacular North Shore Mountains, and the Cascades to the south. If you are into the outdoors, Canada has a lot to offer.
What is the Best Province in Canada for an Architect?
In Canada, the provinces with the most amount of job opportunities are Ontario, Quebec, and Manitoba. While demand for architects is especially higher in the big cities such as Toronto, there is also demand in other locations within these provinces. By observing the job prospect of each province in with the number of architects, we can determine the demand per province/city for this occupation. Ontario's cities/regions with the highest demand includes Toronto, London, and Hamilton. Quebec's cities/regions with the highest demand includes Montreal, Laval, and the Capitale-Nationale region. These provinces are each rated with a good job outlook within the decade, as well as the highest architecture employment rates in Canada. However, each province in Canada has its own unique attributes based on location, timing, and wages. Find out more about architecture employment availability here: https://www.jobbank.gc.ca/marketreport/jobs/17867/ca
Climate in Canada
As in architect, you will be spending a lot of time outdoors so it's important to know what kind of climate you will be in. In Canada, the climate depends on which province you are settling in. If you are living in northern Canada, you can expect super cold weather and summer lasting less than two months! Warmer weather can be found in the southern border provinces where most Canadians live. In all, you should be prepared for super cold weather as well as warm weather throughout the seasons!
Are You Interested in Migrating to Canada as an Architect?
Immigrating to Canada is not a completely straightforward process. The laws are somewhat complex, and for this reason, it helps to work with an immigration professional to help you.
If so, Contact VisaPlace today. All our cases are handled by competent and experienced immigration professionals who are affiliated with VisaPlace. These professionals consist of lawyers, licensed paralegals, and consultants who work for VisaPlace Legal is an award-winning immigration firm that adheres to the highest standards of client service.
Ready for the next step? Book your 1 on 1 consultation now or call us at 1-888-317-5770.
Have a Question related to your Immigration Needs?
Fill out the FREE Immigration Assessment form and get a response within 24 hours to see if you're eligible.
The assessment form should take approximately 5-7 minutes to complete. We will get back to you within one business day to let you know if we are able to help.