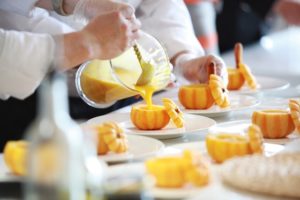 Every year, chefs from all over the world come to Canada to work and start a new life.  In fact, given the cultural diversity and thus incredible variety of restaurant cuisines found in Canada, there are ongoing employment opportunities for almost every type of Chef looking to find work in Canada.
According to Canadian immigration guidelines, there are good prospects for trained chefs who want to work in Canada. This multicultural society is open to many types of eating experiences. Every large city has its share of ethnic restaurants, including Middle Eastern, Asian, Indian, and Mexican. There is a difference, however, between working in Canada and wanting to migrate there. How can a chef make immigration easier for themselves?
Why Canada Needs More Chefs (NOC 6321/62200)
There is an urgent need for chefs across the nation
Canada's multicultural social structure has contributed in the increasing demand for professional chefs specializing in preparing foreign food items.
The country has shortages of European-trained chefs and such special saucieres and great pastry chefs.
Graduates from community colleges in culinary programs are not facing any problem to find a job, and getting the opportunity to choose from many offers of employment.
Pursuant to the Federation of Chefs and Cooks of Canada, the expert chefs and cooks are having high demand in the country.
Due to the aging demographic scenario, the need for expert chefs and cook in the country is expected to increase in establishments which cater to seniors like retirement homes.
Migration Complications
First of all, getting into a country―any country―can be more difficult than you imagine these days. Thanks to global terrorist activities, 9/11, and the way technology makes every threat seem so close, immigration authorities are much stricter than they used to be. Even Canada, formerly thought of as an easy-going nation, has made it more difficult for people to visit – let alone live in their country. The Internet allows immigration authorities to check the background of an applicant thoroughly in minutes.
Complications could include clearing an old DUI. If there is one hanging around on your record, or some other misdemeanor, you need to get rid of this if you can.
There are also countless pieces of information the immigration authority wants when adjudicating an application, and they are not babysitters. If you are skilled and needed in some part of Canada but make a mistake on the paperwork, do not expect immigration officials to call you up and coach you through the details.
Getting Help to Immigrate to Canada as a Chef
If you want to migrate to Canada as a chef, there are a few things you need to do first. One is to assess the demand for your particular skills. Canadians are looking for
• Gourmets
• Chefs with experience in ethnic cuisine from around the world
• Caterers for senior facilities
• Specialist chefs
Do not think that simply being able to cook is enough to get you across the border. You might need to specialize and train just a bit longer, or perhaps gain more experience. Your application will join hundreds of other similar ones.
Get yourself invited by an employer to work in his restaurant. If you can do this, you are able to cross the border more easily. Also, find a lawyer who will go through the application with you. In particular, as a chef, hire an immigration lawyer whose particular experience is helping Americans immigrate to Canada.
Other Qualifications to Become a Chef in Canada
Besides your skills, there will be other expectations. The job invitation is just one. You will also need to
• Speak English proficiently
• Have no criminal record
• Be able to support yourself financially
• Prove that you will not be a medical drain on the economy
This goes for you and any dependents you want to bring with you. Migrating with a family complicates matters somewhat, but should not prevent someone from successfully immigrating. Overall, migrating to Canada as a chef is possible, but there are some hurdles to overcome.