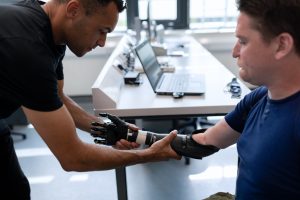 Are you currently working and have experience as an Occupational Therapist and also interested in immigrating to Canada? We have wonderful news for you! Canada considers Occupational Therapists, skilled workers which qualify individuals for many Canadian programs like Express Entry and Provincial Nominee Programs.
Occupational Therapists are trained professionals who treat injured, disabled, or ill patients by practicing therapeutic use of everyday activities. Their patients are those who need help recovering, developing, or improving skills that will help them achieve daily activities. The top-paying places of employment for Occupational Therapists include child daycare services, management of companies and enterprises, continuing care retirement communities and assisted living facilities for the elderly, nursing care facilities, and home health care services.
Salary Average: $83,000 CAD average base salary
Occupational Therapist Requirements
To work in Canada as an Occupational Therapist there are several requirements in order to qualify for a work visa. In order to qualify for immigration to Canada as an Occupational Therapist, you will most likely be required to have a job offer before applying. Internationally Educated Educated Occupational Therapists must meet specific licensing requirements before they are allowed to practice in Canada. An applicant must have their credentials assessed by the Association of Canadian Occupational Therapy Regulatory Organization (ACOTRO). Then the applicant must apply to ACOTRO's Substantial Equivalency Assessment System (SEAS). Most Occupational Therapists must have a Bachelor's degree in occupational therapy or a related field. Some other requirements can include several years of experience in the occupational therapy industry.
Visa Options for Foreign-Born Occupational Therapists Immigrating to Canada
Since Occupational Therapists are currently in high demand in Canada, there are many ways to immigrate to Canada as an Occupational Therapist. Here are some of the most popular ways you can do so:
Canada's Express Entry Program is aimed toward skilled workers who wish to move to Canada. To be considered eligible for this program, your occupation will need to be grouped in skill level 0, A, or B. Occupational Therapist are eligible to apply for permanent residency in Canada through the Federal Skilled Worker Program, managed by the Express Entry system.
This program allows you to immigrate to Canada if you are a skilled or semi-skilled worker and have a valid job offer that is needed in a particular province or territory. Each province or territory has its own PNP with in-demand occupation lists intended to meet the individual needs of its labour market. This will require that you send an Expression of Interest to relocate to the relevant region.
The Atlantic Immigration Pilot Program is similar to the Provincial Nominee Program described above. It is aimed at skilled individuals who know which province they would like to settle in when they arrive in Canada and assuming that province is one of the four participating provinces in this immigration pilot.
This program was aimed to address the labour shortages in the four Atlantic provinces; Nova Scotia, Newfoundland & Labrador, New Brunswick, and Prince Edward Island. If you have a full-time valid job offer in one of the four provinces listed above, you can apply for permanent residency at the same time as you apply for your Canadian work permit.
Are You Interested in Migrating to Canada as an Occupational Therapist?
Immigrating to Canada is not a completely straightforward process. The laws are somewhat complex, and for this reason, it helps to work with an immigration professional to help you.
If so, Contact VisaPlace today. All our cases are handled by competent and experienced immigration professionals who are affiliated with VisaPlace. These professionals consist of lawyers, licensed paralegals, and consultants who work for VisaPlace Legal, an award-winning immigration firm that adheres to the highest standards of client service.
Ready for the next step? Book your 1 on 1 consultation now or call us at 1-888-317-5770.
Have a Question related to your Immigration Needs?
Fill out the FREE Immigration Assessment form and get a response within 24 hours to see if you're eligible.
The assessment form should take approximately 5-7 minutes to complete. We will get back to you within one business day to let you know if we are able to help.