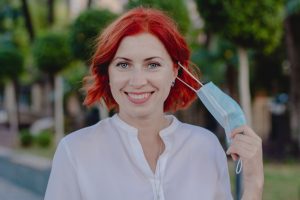 Beginning Monday, March 21st, those living in Ontario may choose whether to wear a mask or not as the province lifts its indoor mask mandate. Although experts have predicted a COVID-19 case increase in the near future, with the strains weakening and based on how the country is recovering from the pandemic, they mention it should be manageable. The Ontario government has lifted the mandatory mask requirements for many places, including gyms, malls, restaurants, bars, grocery stores, and within public elementary and secondary schools.
Check out Canada's latest COVID-related updates!
Where Masks Are Still Mandatory
Select public settings will keep mask mandates until the end of April, which is when the province plans to put an end to all remaining public health rules. The Ontario government says masks are mandatory in the following settings:
Health care settings
Long-term care settings
Retirement homes
Congregate care settings
Shelters
Jails
Public transit
COVID Cases Likely to Rise Again
Due to the restricted access to PCR testing in Ontario, there is no accurate idea of the infection rates. On Thursday, Ontario's science advisory table suggests that the province should expect a rise in cases, hospitalizations, and ICU occupancy. While experts predict this slight increase in COVID cases, they also mention that it will be easily manageable based on how the province is already recovering from the pandemic.
As of Monday, March 24, 2022, Ontario reported 603 hospitalized with COVID-19 and 228 patients in intensive care. The next day, hospitalizations increased to 688 while the number of people in intensive care continued to decline.
Do You Need Immigration Help?
If so, Contact VisaPlace today. All our cases are handled by competent and experienced immigration professionals who are affiliated with VisaPlace. These professionals consist of lawyers, licensed paralegals, and consultants who work for VisaPlace Legal an award-winning immigration firm that adheres to the highest standards of client service.
Ready for the next step? Book your 1 on 1 consultation now or call us at 1-888-317-5770.
Have a Question related to your Immigration Needs?
Fill out the FREE Immigration Assessment form and get a response within 24 hours to see if you're eligible.
The assessment form should take approximately 5-7 minutes to complete. We will get back to you within one business day to let you know if we are able to help.