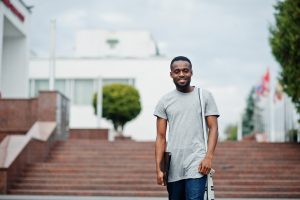 Fall semester is right around the corner in the US, and after a challenging year, international students are scrambling to gather everything they need before they make the move. Studying in the United States is a popular option for those looking for higher education and some individuals later explore their options to receiving a permanent resident green card. From beach towns to mountains and everything in between, there is a college town for you! When making the move to the US, international students are required to bring a number of things to ensure a smooth transition. Here we have provided you with a checklist, some tips, and resources for international students coming to America. Take a look at what we gathered!
Complete US International Student Checklist
1. Plan Finances
About a year before you start the student visa process in the United States, you want to make sure this is the right move for you. This starts by making sure you have all the needed documents and determine if you are financially equipped for studying in the US. In most cases, foreign students studying abroad in the US pay more tuition than US citizens. This is the time to consider applying for scholarships, financial aid assistance, or working part-time while studying!
2. Acceptance Letter, Apply for Visa, Gather Documents
After applying to your school of choice and recieving an enrollment letter, ask your university about the process of issuing your I-20 form. This document reflects information about your enrollment and terms of study in your US university or college. Next, apply for your US student visa! We encourage those students to start this process around 10 months before moving to the United States as the visa application can take anywhere from 3 weeks to 8 months to process. After applying for the study visa, you will need to attend an immigration interview. There are a few documents that you should gather BEFORE your immigration interview. Those documents include:
Valid Passport
Form DS-160 Confirmation Page
Application Fee Receipt
Photo of Yourself
Student Visa Certificate
It's a good idea to scan and save your documents, including copies of your credit cards and travel documents, but carry the hard copies with you. Additional supporting documents may be requested from the college university you are going to! There is no such thing as too many supporting documents. Any proof you have to support your student visa approval and school acceptance will help secure your travel plans.
Related Article: Secrets to a Successful Immigration Interview
3. Health Insurance, Plan Accommodations
Once you've successfully completed your immigration interview, it's a great time to apply for health insurance and plans for living accommodations. If you're attending a US college, you can choose between on-campus accommodation in dorms or off-campus accommodation in a private home. Many international students prefer student housing, at least to start with. It's an easy way to make friends, and you can't beat the proximity to your classes and the dining hall. If you're living off-campus, be prepared to pay a deposit upfront, and expect that your utilities, like gas and water, will be extra. To study abroad, you will need to have health insurance. You can contact an insurance company directly or ask your agent for help. Many colleges and universities have specific rules regarding insurance coverage, so make sure you check with the international student office for all relevant information.
4. Pay Tuition, Set Up Banking
You'll probably use a checking account to do most of your daily banking, including paying your bills. If you're receiving financial aid, it will most likely come as a check or be directly deposited into your account. It can be difficult, however, for non-US residents to open a bank account, especially online. While some banks have different requirements, you'll probably be asked for proof of ID and your source of income, your address, and your Social Security Number (or Taxpayer Identification Number). Ask your university's admission officer or international student office for bank transfer details.
Tips For Your Move
Do online research to find out more about your residential area and the college campus you are attending
Find out where the closest supermarkets, clothing stores, and public transportation facilities are
To track expenses between friends you could use apps like Venmo
Scan all your important documents and save them in your email or save your documents in a Dropbox or your Google Drive
Make sure that you have a list of all the contact information you need
Write down the mailing addresses and telephone numbers in a separate notepad
Employment Options for International Students
To secure extra funds throughout their studies, many international students decide to work part-time while studying. Students on an F-1 Visa have the option to work on-campus the first year of studies, and then take paid off-campus jobs after the year is up! You can do this through a couple of different options including:
Curricular Practical Training (CPT)
Optional Practical Training (OPT)
On-Campus Employment
Off-Campus Employment
Learn more about your employment options as an international student here!
Do You Need Help With Your Study Visa Processing?
If so, Contact VisaPlace today. All our cases are handled by competent and experienced immigration professionals who are affiliated with VisaPlace. These professionals consist of lawyers, licensed paralegals, and consultants who work for VisaPlace Legal an award winning immigration firm that adheres to the highest standards of client service.
Ready for the next step? Book your 1 on 1 consultation now or call us at 1-888-317-5770.
Have a Question related to your Immigration Needs?
Fill out the FREE Immigration Assessment form and get a response within 24 hours to see if you're eligible.
The assessment form should take approximately 5-7 minutes to complete. We will get back to you within one business day to let you know if we are able to help.