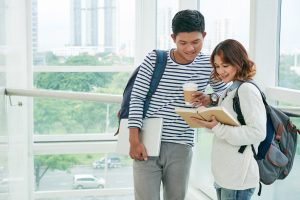 Recently, we've seen many different variations of travel restrictions to decrease the spread of COVID-19 in Canada. Along with temporary flight bans, individuals traveling through air must take a COVID-19 test upon arrival and stay in a hotel for three nights until their COVID-19 test is negative. The problem is, many individuals are finding loopholes to avoid these travel restrictions, and it's not helping those provinces that are still struggling with COVID-19. Here is what we've gathered and what you should expect as an international student traveling to Ontario!
Plans to Restrict International Students Traveling to Ontario
Premier Ford of Ontario wrote in a letter,
"In the past two weeks, over 150,000 people – not including essential commercial truckers – have crossed Canada's land borders. This includes dozens of individuals who crossed between April 24, and April 26, 2021, after traveling from countries where direct flights to Canada are currently banned. This is not just an Ontario problem – it is a Canada-wide problem."
As of right now, many international students are still traveling to Canada as they are currently exempt from travel restrictions by showing a valid study permit or a letter of introduction that shows they were approved for a permit. Authorities are working on stronger restrictions that decrease the number of international students crossing the Canadian border.
Last week on April 29th, Canadian Prime Minister Trudeau announced tentative plans to suspend the entry of students to Ontario. This started with a request from Premier Ford to stop allowing students to come to Ontario as COVID-19 cases start to increase. Trudeau has not added any information yet about when it will start and end but we are confident we will be seeing updates shortly!
Coronavirus Cases in Ontario
As of April 30th, there were 3,887 new cases reported in Ontario which surpasses the total of cases in other provinces. Ontario's hospitals admitted an all-time high number of patients in mid-April as almost 2,400 people were hospitalized at the peak. The good news is, Ontario officials are forecasting everyone over the age of 18 years old will be able to book a COVID-19 vaccine by May 24.
Just two weeks ago, a temporary flight ban from India and Pakistan was implemented as 36 cases of the B.1.617 Coronavirus variant were reported. Of the 36 cases identified, six were linked to international travel and were detected through PHO's genomic surveillance program. The other 30 were detected through Ontario's airport and land border screening programs.
Related Article: Temporary Flight Ban from India and Pakistan
The US has just banned flights from India as well so those trying to fly to the United States and across the Canadian border will be running into complications as well. Learn more about this US flight restriction!
Need Professional Immigration Help?
We understand that many students will be affected by these new rules so it's important to receive professional help if you already have plans to travel to Canada as an international student in the near future.
Contact VisaPlace today. All our cases are handled by competent and experienced immigration professionals who are affiliated with VisaPlace. These professionals consist of lawyers, licensed paralegals, and consultants who work for VisaPlace Legal, an award-winning immigration firm that adheres to the highest standards of client service.
Ready for the next step? Book your 1 on 1 consultation now or call us at 1-877-296-0874.
Have a Question related to your Immigration Needs?
Fill out the FREE Immigration Assessment form and get a response within 24 hours to see if you're eligible.
The assessment form should take approximately 5-7 minutes to complete. We will get back to you within one business day to let you know if we are able to help.