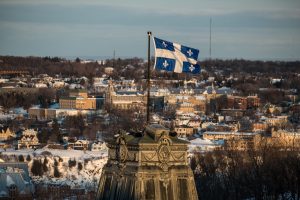 Similar to Express Entry for other provinces, Quebec has announced an update within the Regular Skilled Worker Program (RSWP) for applicants seeking permanent residency in Canada. Published last week in the Gazette officielle du Québec, the Ministère de l'Immigration, de la Francisation et de l'Intégration (MIFI) announced a new step in the launch of the expression of interest system that will facilitate better alignment between immigration and the needs within the Québec labour market.
Learn more about Quebec's Regular Skilled Worker Program (RSWP) or Express Entry.
Extra Points for Those Settling Outside Montreal
Within the expression of interest pool, there are in total 1,320 points available to those applying, 580 are for human capital factors and 740 for factors related to Quebec's labour market needs. Those looking to settle outside Montreal have the opportunity to earn more points to enhance their chances of being invited to apply for Canada PR.
Human Capital Criteria
Includes French language ability, bilingual ability, age, work experience, and education.
Labour Market Criteria
Includes work experience in a field where there is a shortage, education in Quebec, work experience in the rest of Canada, and job opportunities inside and outside the Greater Montreal area. This last criterion carries significant weight since job offers outside the Montreal metropolitan area can be worth up to 380 points, while offers in Montreal obtain 180 points.
How to Apply for PR in Quebec
Submitting an Expression of Interest (EI)
Those interested in permanently immigrating to Quebec through the Regular Skilled Worker Program must first create an Expression of Interest (EI) profile within the Arrima pool which is a point-based application management system. This pool is very similar to Express Entry for other provinces and candidates will receive a score based on factors related to human capital and the Quebec labour market, as identified in the newly introduced point system above. The MIFI will hold invitation rounds and the most qualified and highest-scoring candidates will be invited to apply for Canada PR.
After You've Been Invited to Apply for PR
Candidates who are selected to apply for permanent residency in Canada will receive a CSQ (Certificat de Selection du Quebec). This is a document you will need to verify that you've been approved for permanent residency. Once you've obtained a CSQ, applicants are then given a limited amount of time to complete their permanent residency application. You can also expect to undergo a medical exam and criminal admissibility screening before granted entry.
Need Help With Your Quebec Immigration Processing?
If so, Contact VisaPlace today. All our cases are handled by competent and experienced immigration professionals who are affiliated with VisaPlace. These professionals consist of lawyers, licensed paralegals, and consultants who work for VisaPlace Legal, an award-winning immigration firm that adheres to the highest standards of client service.
Ready for the next step? Book your 1 on 1 consultation now or call us at 1-888-317-5770.
Have a Question related to your Immigration Needs?
Fill out the FREE Immigration Assessment form and get a response within 24 hours to see if you're eligible.
The assessment form should take approximately 5-7 minutes to complete. We will get back to you within one business day to let you know if we are able to help.