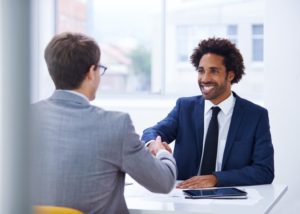 First Impression
Although this may not seem like it affects your application, it does! The first moment you come face-to-face with your visa interviewer, they will be assessing you through nonverbal communications just as much as your verbal responses to their questions
Eye Contact: Eye Contact with your interviewer is extremely important. Looking away from them gives a negative impression that you aren't confident in your case. Looking down or to the side can also give an impression of nervousness or rudeness. Continuing constant contact shows expresses enthusiasm, passion, and interest in success for your application.
Posture: It is important to site up straight during an interview. Slumping in a chair is not projecting confidence and competence through your body language. When you sit up straight and look straight ahead, it also encourages you to look directly into the interviewer's eyes when speaking.
Smile: Smiling will be your biggest first impression asset. Having a confident smile throughout the entire interview will show your positivity and enthusiasm for the information you are sharing with them. Having a genuine smile will also show that you are friendly and open for communication about your case.
What You Wear
Your appareance is also important to the success of your interview. Dressing appropriate will reflect the type of person you are. When you walk into the interview you should look neat and profession, avoid too much makeup, jewelry should be kept at a minimum, not too much perfume, don't chew gum, etc. These are just a few ways to help lead you to a positive outcome!
Communication and Language
Communication seems like an obvious factor to an interview but many people overlook how important this is. Effective communication projects a positive image and boosts your chances. Avoid using filler words such as "like", "um", and "I guess" in your interview. Practicing English with a native speaker before the interview is one of the best ways to prepare for your interview.
Prepare, Study, Practice
Prepare for your interview. Bring all copies of your forms and document originals. You should be able to respond to questions about your forms without extensive referencing and confusion. Be prepared to answer very personal questions about your family, romantic relationships and friendships. If you don't understand what an immigration officer is saying be sure to ask what they mean, wrong answers won't help your case but assertiveness will!
Be Truthful
Do not lie to the immigration officer interviewing you. If you feel like you have something that will be difficult to explain, hire an immigration lawyer or immigration attorney. Your lawyer will be able to defuse difficulties situations during an interview.
Do you want to immigrate to Canada or the United States?
Fill out our FREE online immigration assessment, and we will get back to you within 24 hours.
WE WANT YOUR FEEDBACK!
Do you need help before your immigration interview?
Comment below, we want to hear your opinion hear your opinion.