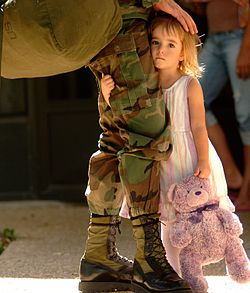 Recently, United States immigration officials justified a new policy for military members brought forward by the Trump administration. This new policy states that some children born to U.S. service members and government employees overseas will no longer be automatically considered citizens of the United States.
Previously, their children would be considered to be both living in and outside of the US for purposes of eventually gaining citizenship. By stripping the children of the former, the only way they can get citizenship is through a parent applying for them, whereas before it would've been automatic provided they meet certain requirements, said Cristobal Ramon, senior policy analyst at the Bipartisan Policy Center.
It does not impact anyone born in the United States.
US citizenship can be acquired a few ways, including being born in the country. Children born abroad can acquire citizenship through their US citizen parents either at birth or before the age of 18. Children who are not U.S. citizens and are adopted by U.S. service members while living abroad will also no longer receive automatic citizenship by living with the U.S. citizen adopted parents.
The policy change is yet another roadblock that the administration of President Donald Trump has placed for people to live legally in the United States, said immigration attorney Martin W. Lester, who is based in Tennessee and who serves on the military assistance committee of the American Immigration Lawyers Association.
It appears to target children of service members who are legal permanent residents and not U.S. citizens, but could also affect citizens if they can't prove they lived in the U.S. for a certain amount of time. People in those scenarios would have to undergo a more cumbersome process for obtaining American citizenship for their kids.
The new guidance will not apply to children who acquire citizenship at birth or while residing in the United States, the USCIS notice states. That includes children born abroad to U.S. citizens who have resided in the United States at some point in the past five years.
To derive citizenship, children must fulfill a
residency
requirement. Under previous regulations, living in a home abroad with their U.S. citizen parents fulfilled that requirement; the new rule will require that residence to be on U.S. soil.
These children will now need to apply for citizenship under Section 322 of the INA, which considers them as born and residing outside the United States. That provision requires them to apply for naturalization, which must be completed before the child turns 18.
The new policy will take effect Oct. 29, according to the USCIS notice.
While children of service members will be allowed to complete the citizenship process outside of the U.S., Parker added, children of government employees "must enter the U.S. lawfully with an immigrant or nonimmigrant visa and be in lawful status when they take the Oath of Allegiance."
Do You Think You May Be Affected by This New Policy?
The legal team at VisaPlace have assisted countless individuals to successfully obtain US citizenship, and we can help you, too.  The first step is assessing your specific situation. Fill out our free eligibility assessment form or contact us here to speak to one of our US immigration experts, and trust our expertise to guide you to the best outcome for you and your family.