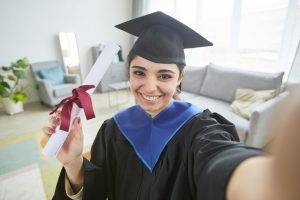 Thousands of young adults are coming to Canada each year for higher education. A huge benefit to this and a reason many immigrants choose this route is the opportunity to gain permanent residency after their studies. What's better than knowing you could come to Canada for education and then have a good chance of making Canada your home? Canadian officials have created a straightforward pathway for those looking to achieve this goal by utilizing a Post Graduate Work Permit (PGWP) and the Canadian Experience Class through Express Entry. We want to help you better understand this process so below we have broken down the 5 steps from Study to Canada PR!
Study to Canada PR Process
Step 1: Apply for study permit
First, you must apply for your Canadian study permit and finish your studies! To apply for a study permit in Canada, you must get accepted to a qualified designated learning institution (DLI). Learn more about Canada study permits.
Step 2: Work while studying (optional)
Most international students studying in Canada like to take the opportunity to work while studying so they can not only gain work experience but cover their day-to-day expenses as a student. When studying in Canada you can work on-campus, off-campus, and apply to internships. Then you are ready for a Post-Graduate Work Permit!
Step 3: Apply for Post-Graduate Work Permit
Once you have graduated, you can apply for a Post-Graduate Work Program to start gaining valuable Canadian work experience. Your PGWP validity is based on how long your studies were!
Step 4: Apply for Express Entry (Canadian Experience Class)
Once you've received your degree and at least one year of Canadian work experience, you may be ready for permanent residency! The best option for graduates in this scenario is to apply through the Canadian Experience Class (CEC) which is managed under Express Entry. You will then be entered into an online lottery that will invite candidates to apply for Canada PR based on their CRS score. Usually, by this time, the candidate with have a Canadian job offer and a good amount of Canadian work experience which are huge boosters for your CRS score.
Related Article: CRS Score Calculator
Step 5: Recieve an ITA and Apply for Canada PR
Once your score is the cut-off score or higher within an Express Entry draw, you will recieve an ITA (invitation to apply) allowing you to apply for Canada PR.
Do You Need Legal Immigration Help?
Just because the study to Canada PR pathway seems straightforward, there is always room for complications so it's important to have immigration help on speed dial! If you need immigration assistance in Canada, we can help!
Contact VisaPlace today. All our cases are handled by competent and experienced immigration professionals who are affiliated with VisaPlace. These professionals consist of lawyers, licensed paralegals, and consultants who work for VisaPlace Legal, an award-winning immigration firm that adheres to the highest standards of client service.
Ready for the next step? Book your 1-on-1 consultation now or call us at 1-888-317-5770.
Have a Question related to your Immigration Needs?
Fill out the FREE Immigration Assessment form and get a response within 24 hours to see if you're eligible.
The assessment form should take approximately 5-7 minutes to complete. We will get back to you within one business day to let you know if we are able to help.