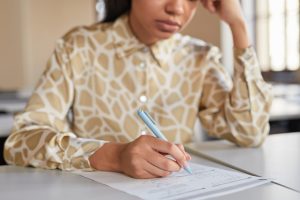 When immigrating to Canada, there are a number of requirements the applicant must meet to be considered. Although these requirements can change depending on which immigration pathway you are taking, some of these requirements are standard across the board. One of these requirements includes taking a certified language test (except on very rare occasions).
Why Do I Need A Language Test for Canadian Immigration?
The Canadian government finds it important that all immigrants coming to Canada has a decent level of language proficiency before making the move. This is so newcomers to Canada have an easier time adapting to their new country in workplaces, schools, and other public locations. The IELTS language test is one out of three certified language tests that one can take for Canadian immigration.
Related Article: Which Language Test Do I Need for Canadian Immigration?
What is IELTS?
IELTS which stands for International English Test System was created to help immigrants to work, study, or migrate through other pathways to Canada (also accepted in other countries). A standard requirement for all immigrants wanting to come to Canada is proving that they have a decent level of English and/or French language skills. To prove your English proficiency, you'd be required to take the IELTS General Training test, which is the preferred test for immigration to Canada.
How To Register for the IELTS Test
Find the nearest testing center
Register for a test by downloadiung an application form
Wait for a written confirmation in the mail with your testing date and time
IELTS Test Scoring
| | |
| --- | --- |
| Band Score | Skill Level – Description |
| | |
| --- | --- |
| 9 | Expert User -The test taker has fully operational command of the language. Their use of English is appropriate, accurate, and fluent, and shows complete understanding. |
| 8 | Very good user – The test taker has fully operational command of the language with only occasional unsystematic inaccuracies and inappropriate usage. They may misunderstand some things in unfamiliar situations. They handle complex and detailed argumentation well. |
| 7 | Good user – The test taker has operational command of the language, though with occasional inaccuracies, inappropriate usage, and misunderstandings in some situations. They generally handle complex language well and understand detailed reasoning. |
| 6 | Competent user – The test taker has an effective command of the language despite some inaccuracies, inappropriate usage, and misunderstandings. They can use and understand fairly complex language, particularly in familiar situations. |
| 5 | Modest user – The test taker has partial command of the language and copes with overall meaning in most situations, although they are likely to make many mistakes. They should be able to handle basic communication in their own field. |
| 4 | Limited user – The test taker's basic competence is limited to familiar situations. They frequently show problems in understanding and expression. They are not able to use complex language. |
| 3 | Extremely limited user – The test taker conveys and understands the only general meaning in very familiar situations. There are frequent breakdowns in communication. |
| 2 | Intermittent user – The test taker has great difficulty understanding spoken and written English. |
| 1 | Non-user -The test taker has no ability to use the language except a few isolated words. |
How To Prepare for the IELTS Test
Understand the test formatting
It's important that you study for the correct test from the get-go so your preparation is for the right material. Those immigrating to Canada must complete the General Training Test which is broken down into a few segments including:
Listening
General Training Reading
General Training Writing
Speaking
Here you can familiarize yourself more with these four segments!
Take a practice test
After studying and taking a look at the tests sample questions, you should challenge what you've learned by taking a practice test. Consistently checking your progress is important to learn what you need to still work on leading up to your IELTS test.
Join a preparation course
If you would like assistance with preparing for your test, you can find IELTS centers, language schools, teachers around the world that offer IELTS preparation courses. You don't have to attend a preparation course, but many test-takers find that doing so helps them improve helps their performance tremendously.
IELTS Testing Online
If you rather test online or need to test online because a testing center isn't close to you, you can take the IELTS test online! When testing online, you will be tested within the same four segments, you can choose where you take it, and you will get your results within 3 to 5 business days.
Do You Need Canadian Immigration Help?
If so, Contact VisaPlace today. All our cases are handled by competent and experienced immigration professionals who are affiliated with VisaPlace. These professionals consist of lawyers, licensed paralegals, and consultants who work for VisaPlace Legal, an award-winning immigration firm that adheres to the highest standards of client service.
Ready for the next step? Book your 1 on 1 consultation now or call us at 1-888-317-5770.
Have a Question related to your Immigration Needs?
Fill out the FREE Immigration Assessment form and get a response within 24 hours to see if you're eligible.
The assessment form should take approximately 5-7 minutes to complete. We will get back to you within one business day to let you know if we are able to help.