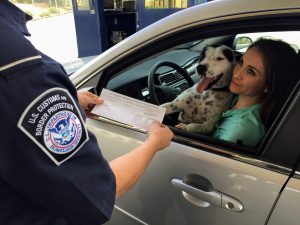 Note: This article may be out of date and travel restrictions may have changed. Click here to explore the most recent updates and travel restrictions in the United States or Canada!
On Wednesday, July 21st, the United States government announced plans to extend the closure of land borders with both Canada and Mexico to August 21st. This will only be in effect to non-essential travelers such as tourists and visitors.
There has been much discussion about whether the US government also plans to require all visitors to be completely vaccinated for COVID-19 before entering the United States. Many meetings were held in the past week to discuss this topic, but no final decisions have been made.
Although the US land border has remained closed to all non-essential travel, some Canadians have been permitted to travel to the US by air if they can show proof of a negative COVID-19 test. This is the case for almost all air travelers heading for the United States. Americans have not yet been permitted to do the same in Canada.
Do You Need Help Crossing the US/Canadian Border?
If so, Contact VisaPlace today. All our cases are handled by competent and experienced immigration professionals who are affiliated with VisaPlace. These professionals consist of lawyers, licensed paralegals, and consultants who work for VisaPlace Legal, an award-winning immigration firm that adheres to the highest standards of client service.
Ready for the next step? Book your 1 on 1 consultation now or call us at 1-888-317-5770.
Have a Question related to your Immigration Needs?
Fill out the FREE Immigration Assessment form and get a response within 24 hours to see if you're eligible.
The assessment form should take approximately 5-7 minutes to complete. We will get back to you within one business day to let you know if we are able to help.