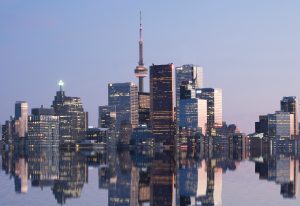 While the beautiful city of Toronto provides vast investment opportunities with its massive real estate market, it can be difficult to get started as an immigrant or newcomer looking to get their first home. On our live stream May 25, 2022, Toronto real estate specialist Christian Moretuzzo provided tips on settling in the Toronto housing market, as well as insight on how to find the best help during the process.
*All views expressed within this article are opinions based on market factors of the current time period.
What's the Best Thing About Toronto Real Estate I Should Know?
The Toronto housing market is a very secure market to invest in. Over the past 30-40 years we've seen a yearly return on your money of approximately 8%. (However, in the past few years, that number has dramatically increased due to the rapid increase in general prices.) Nonetheless, the average shows that there's about a 7-8% increase over the past 20-30 years, which demonstrates the resilience and confidence within the market despite obstacles such as the COVID-19 pandemic. Regardless if you are local or from overseas, the confidence people have within the Toronto real estate market will keep it going strong for many years to come.
I Want to Buy Real Estate in Toronto, Where do I Start?
The price for a detached home in the greater Toronto area is quite expensive, as it's on average about $1.6 million Canadian dollars, and so it's unlikely that you're going to start with your dream home. That isn't an option for everybody, especially the younger demographic, so what are the beginner steps one will need to take? It is recommended that in the pricey market in the city of Toronto, you can start off with a condo or a smaller 2-3 bedroom apartment and with the trend of the market, that will take you so far within 3-5 years from now. Before you look to purchase larger properties, you will need to start off on the smaller side so that you can accumulate money from your initial investment and move up within the market. The unique aspect about Toronto, however, is that it's an increasingly culturally diverse city with the ability to choose an amazing community to settle into your first home.
What is the Role of a Real Estate Agent When I Come to Toronto and Start Looking for a House?
All real estate agents will simply guide you through the process of buying or selling any type of home in the best way possible. However, real estate agents will have varying expertise based on specific areas and neighborhoods, so it's important to ask whether they have knowledge of the areas you are considering. Real estate agents will also help you negotiate the best deal for the place you're looking to purchase or rent, and especially promote you as a person to achieve the most ideal terms if it is the case that you're looking to rent from a landlord. Real estate agents are also tasked with giving you a lot of insight and opinion of what the area, lifestyle, demographics, commutability, and geographic factors, are like, what its prices look like, and input on what that building itself is like.
How do Real Estate Commissions work in Canada?
In Canada, the seller/landlord of the property will pay for the commission. In other words, you don't have to pay for the real estate agent you use when you're looking to buy/rent a property as it is taken care of by the person selling or renting out the property and will not cost you anything.
What are the Questions a Real Estate Agent Will Ask Me as a First-Time Client?
Which location or area do you want? You might want to consider where you work and how convenient it will be to travel there and back. What is your budget? Real estate prices are currently much more expensive in 2022 than a few years ago regardless if you're buying or renting a home. Have you gotten your pre-approval done? What kind of size do you need? How soon do you need to move in? These are all questions that a real estate agent will ask you so that they may successfully seek a house that is right for you.
How Helpful are Real Estate Agents?
Real estate agents not only help guide you through the steps you need to take but point you in the right direction. During the process it can be challenging to organize yourself and network by finding the right contacts, and a real estate agent should be able to help with that while they help you make the right decision whether it comes to purchasing, renting, etc.
What Neighborhoods In or Near Toronto Can Provide the Best Value for My Money?
There is no one answer for this question as it depends on what kind of environment you are looking for. If you are looking for a place in the suburbs, Hamilton is a great option, while the commutability is long (soon to improve with new go-trains) you can find a place for great value, or on the east side offers great areas such as Pickering, Ajax which is a bit farther from the GTA. To go even more budget friendly but also more further out, Oshawa or Whitby are available options as well. These places can be great if you don't need to commute to Toronto every single day, and while they're still on the expensive side they are definitely more affordable than the other areas nearby. If you want to live inside the city and be able to travel quickly downtown, Etobicoke or the Humber Bay area provides a lot of value which has accessible go-trains right to the center of the city.
I'm Coming With my family to Toronto and My job is in the Heart of the City. What Type of Property is Recommended?
If your job is right in the heart of Toronto, it truly depends on how far you are willing to commute to work, and your budget of what you're able to afford. The further you go out into Toronto, the more affordable it is. If you have a larger family, an apartment is not recommended, a more suitable option is ground-oriented housing with space for your family such as a townhouse or semi-detached, and is close to transit that allows an adequate commute time to work for you. Your realtor will help you figure out what location and property will work best specifically for your needs and level of flexibility.
Before I Come to Buy or Rent a House in Toronto, How Can I Prepare for the Extremely Competitive Housing Market?
Before you commit to moving to Toronto, it's highly recommended that you get in touch with a real estate agent to help you or to research what the market is looking like in Toronto. Having the knowledge of pricing options, work demographics, commutability, and especially the housing availability ahead of time will make it tremendously easier and less stressful to get started in such a highly competitive housing market whether you are buying or renting. Having savings lined up and knowing what affordable options there are will make the process of securing a home much more smooth.
Watch Video: The Truth About Buying a Home in Toronto
Have a Question related to your Immigration Needs?
Fill out the FREE Immigration Assessment form and get a response within 24 hours to see if you're eligible.
The assessment form should take approximately 5-7 minutes to complete. We will get back to you within one business day to let you know if we are able to help.