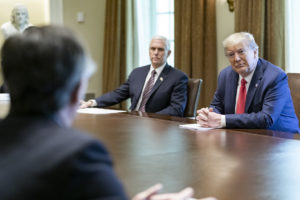 *Update 4/23/2020 11:07am
The rule largely hits negatively the following groups –
Parents of US citizens, Siblings of US citizens, Spouses and minor children of permanent residents, Green card lottery winners

People NOT effected
(These visa are still open)
Spouses & minor children of US citizens, Special Immigrant Visas, EB-5 investor visas, Temporary visas of any kind—All work, study and visitors

You can still also apply for a Green Card from within the US. Remember this is just a 60 day suspension and it's a good time to prepare for your case!
*Update 4/22/2020 10:00am
Update on Trump's Temporary US Immigration Suspension
More clarity has been provided regarding President Trump's proposed Executive Order suspending US immigration, which he intends to sign Wednesday, April 22.
This order is said to apply ONLY to people seeking Green Cards cards/permanent residency in the United States, and will last a total of 60 days. Those interested in Green Cards should see this is an opportunity to prepare your application in advance of the 60 day hold, although we are still able to submit applications during this time.
This Order will not impact most people! Most visas will still be processed…..for now.
It appears that this EO WILL NOT apply to people applying for all types of work visas, visitor or student visas- the largest source of immigration. This means that people can still apply for visas overseas once the Consulates reopen but can prepare for them right away. People can also still apply for visas from within the US and at US Service Centers. We are therefore still processing most visas including L, TN, E and O visas as well as B-1 and B-2 temporary visa status applications.
An administration official familiar with the plans said the order would apply to foreigners seeking employment-based green cards and relatives of green card holders who are not citizens. BUT Americans who wish to bring immediate family to the country would still be able to do so, according to the official. About one million green cards were granted in the 2019 fiscal year, about half to spouses, children and parents of US citizens.
President Trump also hinted that he could sign a second order in the future, imposing further immigration restrictions, but provided no specifics. That being said, it is highly recommended that you consider applying right away as there is no guarantee these visas will remain open in the future. Keep checking back with us at VisaPlace for further updates.*
President Trump's recent tweet made late on April 20th states he intends to "temporarily suspend immigration to the USA", prompting concerns from many people intending to immigrate or already in the process of immigrating to the US. While there are valid reasons to be worried, we at VisaPlace believe there is no need for such concern just yet. There are some bottom line facts that everyone should know.
As of right now, there is no suspension to US Immigration. USCIS continues to operate. Trump has only just tweeted his intention to sign an Executive Order, but that is just the start of a process where we expect there will be numerous court challenges to fight it. It is also probable that a federal court judge will issue an injunction to prevent the Executive Order from taking immediate effect. Such an injunction could last anywhere from 3 months to several years as the case works its way through the court system.
Looking from a worst-case scenario point of view, even if the Executive Order goes through, it is intended to be only temporary. Any restrictions on immigration may last only as long as the pandemic itself. The federal government is already making plans to reopen the economy and is aware that immigration plays a key role in this.
What Should You Do?
If you are considering beginning the immigration process to apply for a US visa, our advice is to start the process immediately. If you wait, you risk a visa/application waiting period that will likely be prolonged as well. You will want your application in the queue now, rather than buried in a deluge later. Be assured, US immigration is here to stay overall. The United States will always need immigrants and VisaPlace is here to help!
Do You Want to Apply for a United States Visa?
The United States government is still accepting and processing immigration applications in every category and we're here to help!
Now is the best time to book a consultation before the surge of delays or backlogs. Book a consultation from the comfort of your own home now! We will conduct all of our immigration consultations through the phone or video chat.