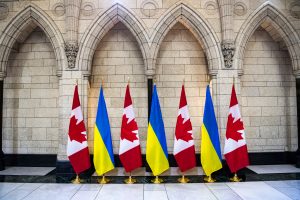 Canada has been keeping a close eye on the situation in Ukraine and continues to stand firm in its support for the country's sovereignty and territorial integrity. The IRCC is making further efforts to assist Ukrainians and persons residing in Ukraine, as well as to make it simpler and faster for Canadian citizens, permanent residents, and their accompanying immediate family members to return to Canada.
The IRCC has decided to prioritize applications for new and replacement travel documents for Canadian citizens, permanent residents, and their immediate family members as part of the Government of Canada's response. Canada implemented measures over a month ago to prioritize the processing of citizenship grant applications for adoption, as well as permanent and temporary residence applications for people with a primary residence in Ukraine who want to reunite or travel with family, study, work, or begin a new life in Canada. Ukrainian nationals who are currently in Canada temporarily can request to have their visiting, student, or working status extended. IRCC has approved approximately 2,000 applications from Ukrainian nationals and residents in Ukraine across several programs since January 19.
New Immigration Streams for Ukraine
An estimated one million people have fled Ukraine as a result of Russian President Vladimir Putin's unlawful aggression. As a result, Canada is allowing two new types of immigrants to enter the country.
The first would allow an unlimited number of Ukrainians to come to Canada on a temporary basis with expedited emergency visas, while the second will provide a new family reunion option for individuals who choose to stay permanently in the nation.
Temporary Residency Stream for Ukrainians
This stream will allow Ukrainians to stay in Canada for up to two years if they choose to do so while the onslaught continues. Most visa requirements, including fees and language examinations, would be eliminated, and people will need to fill out a "simple" application form and give biometrics for security and background screening in order to qualify.
Everyone who enters through this new channel will be eligible for a work permit or a study permit, allowing them to work for any Canadian employer or enroll in an educational program, said Minister of Immigration, Refugees, and Citizenship Sean Fraser on Thursday, urging businesses to "step up" and hire those who arrive.
The CUAET allows any Ukrainian citizen and their immediate family members to immigrate to Canada and stay up to 3 years. They can also apply for a work visa that will allow them to work during those 3 years.
Permanent Residency Option for Ukrainians
For those looking to make Canada their home, the government is introducing a new family sponsorship program, with details to be finalized in collaboration with Ukrainian-Canadian community groups in the coming weeks, that will provide an expedited path to permanent residency for Ukrainians seeking to reunite with family members who are already in Canada.
"The reason for our commitment goes beyond the historic ties between Canada and Ukraine… I can't help but think that centuries from now historians will be writing of the courage on display in Ukraine today," Fraser said. "From the fearless leadership of President Zelensky, to the young fathers with tears in their eyes delivering their children to safety before they return to the frontlines… to the unarmed grandmothers confronting Russian soldiers."
Options for Ukrainians Taking Refuge in Canada
Call the Hot Line for Ukrainians: 613-321-4243. It has been said that this hotline has been extremely busy. If you can not get through to speak with someone, you can contact us at VisaPlace who may be able to help you through this difficult time.
People can now add the keyword "Ukraine2022" to the IRCC Web form with their inquiry and their email will be prioritized.
The IRCC will issue open work permits to Ukrainian visitors, workers and students who are currently in Canada and cannot go home, so they can stay longer if they wish.
Sponsor families from Ukraine to Canada through Prioritized Family Sponsorship. Contact us to start your application ASAP.
Learn more about immigrating from Ukraine to Canada.
How to Help Ukrainians From Canada
The Government of Canada announced that they will be giving $100 million in humanitarian aid to assist experienced partners in meeting the most urgent humanitarian needs in Ukraine and neighboring countries. This funding will be used to offer emergency health services (including trauma care), as well as protection, assistance to displaced people, and life-saving services including shelter, water, sanitation, and food.
Canada will continue to engage with partners, including as the UN and non-governmental organizations, to explore what further it can do to help individuals affected by the war.
Where to Donate for Ukraine Relief
Airbnb: The vacation rental firm said that it will provide up to 100,000 Ukrainian refugees with short-term lodging. The company and donations to the Host Refugee will cover the costs of the stays. People are asked not merely to provide money, but also to welcome vulnerable migrants into their homes.
Canada-Ukraine Foundation: The donations are being used to provide food packages, medicine, and shelter.
Canadian Red Cross: The support could include preparedness, immediate and ongoing relief efforts, long-term recovery, resiliency, and other critical humanitarian activities as needs arise, both in Ukraine and surrounding countries, including supporting populations displaced.
Canadian Foodgrains Bank: Donations to the Foodgrains Bank that are used for food assistance projects are matched 4:1 by the Government of Canada. They are working with the Humanitarian Coalition to bring food and supplies directly to people fleeing Ukraine.
Do You Need Help Immigrating to Canada from Ukraine During this Difficult Time?
If so, Contact VisaPlace today. All our cases are handled by competent and experienced immigration professionals who are affiliated with VisaPlace. These professionals consist of lawyers, licensed paralegals, and consultants who work for VisaPlace Legal, an award-winning immigration firm that adheres to the highest standards of client service.
Ready for the next step? Book your 1 on 1 consultation now or call us at 1-888-317-5770.
Have a Question related to your Immigration Needs?
Fill out the FREE Immigration Assessment form and get a response within 24 hours to see if you're eligible.
The assessment form should take approximately 5-7 minutes to complete. We will get back to you within one business day to let you know if we can help.