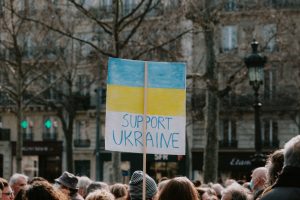 At the announcement of the invasion of Ukraine, the Canadian government immediately made efforts to help Ukrainians flee the war. The world has been impressed by Ukrainians' tenacity and fortitude, and Canada remains unshakable in its commitment to supporting Ukraine as it battles for its independence and the democratic principles that our two countries share.
The Honourable Sean Fraser, Minister of Immigration, Refugees, and Citizenship, announced today the introduction of the Canada-Ukraine Authorization for Emergency Travel (CUAET) in reaction to Russia's invasion of Ukraine.
What is the CUAET?
CUAET stands for "Canada-Ukraine Authorization for Emergency Travel". The CUAET is a unique, expedited temporary residency option for Ukrainians seeking a safe haven in Canada while their own country is still at war.
Is the CUAET a Temporary Visa for Ukrainians to Canada?
Yes! The CUAET is a temporary visa for any Ukrainians and their family looking to flee Ukraine. The CUAET is a 3-year temporary visitor visa but you can apply for a work visa at the same time that will allow any Ukrainians to work in Canada during that time. While Ukrainians are in Canada they can take advantage of Canadian benefits such as business opportunities and public schools for children. If a Ukrainian wishes to pursue higher education they can also apply for a student visa while in Canada.
Who Can Qualify for the CUAET?
Any Ukrainian and their immediate family member can apply for the CUAET which will allow them to live in Canada.
How to Apply for the CUAET
Any Ukrainian applicants who are overseas must apply for a Canadian visitor visa and then provide their biometrics which include a photo and fingerprint.
Applicants should apply for a 3-year open work permit at the same time that they apply for a visa. They will be able to work in Canada with this permission. Many of the standard procedures connected with a normal guest visa or work permit have been eliminated under this unique scheme.
Students in elementary and high school can enroll and begin attending school as soon as they arrive in Canada, and anybody wishing to pursue post-secondary education can apply for a study visa once they are in Canada.
Can a Ukrainian without a Passport Still Apply for the CUAET?
Applicants who do not have a valid passport may still apply, and if necessary, Immigration, Refugees and Citizenship Canada (IRCC) will issue a single voyage travel document.
Ukrainians and their family members are exempt from the COVID-19 vaccination requirements for entrance into Canada. They must, however, comply with all other travel-related public health obligations, such as quarantine and testing. All visitors to Canada, including those entering under the CUAET, must utilize ArriveCAN, with a few exceptions.
Are You or Your Family Interested in Immigrating from Ukraine to Canada?
If you are from Ukraine and interested in moving you and/or your family to Canada, VisaPlace is here to help. All our cases are handled by competent and experienced immigration professionals who are affiliated with VisaPlace. These professionals consist of lawyers, licensed paralegals, and consultants who work for VisaPlace Legal, an award-winning immigration firm that adheres to the highest standards of client service.
Ready for the next step? Book your 1 on 1 consultation now or call us at 1-888-317-5770.
Have a Question related to your Immigration Needs?
Fill out the FREE Immigration Assessment form and get a response within 24 hours to see if you're eligible.
The assessment form should take approximately 5-7 minutes to complete. We will get back to you within one business day to let you know if we can help.