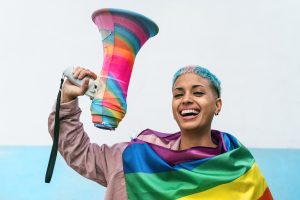 The United States joins a handful of other countries and recently issued the first passport to an individual who falls under the new Gender 'X'. Thousands of US citizens across the country who have also been waiting for this change can now select 'X" as their gender which is huge relief for many. Gender 'X' is for those who identify as non-binary, intersex, or gender-nonconforming. Other countries that have already maybe this change include: Australia, New Zealand, Nepal, and Canada and is designed for citizens who identify other than female or male.
Why Gender 'X' Was Added to US Passports
This is big news to many individuals in the LGBTQ+ who are looking to live comfortably being who they are! This change came after a discrimination lawsuit by Dana Zzyym, an intersex and nonbinary Colorado resident who argued it was impossible to get a passport with their accurate gender because "female" and "male" were the only options.
The US State Department said in June that they were moving toward adding a third gender marker for nonbinary, intersex and gender-nonconforming people but that would take time because of required updates to its computer systems. In addition, a department official said the passport application and system update with the "X" designation option still awaited approval from the Office of Management and Budget, which signs off on all government forms.
The department now also allows applicants to self-select their gender as male or female, no longer requiring them to provide medical certification if their gender did not match that listed on their other identification documents.
"…the Department of State's commitment to promoting the freedom, dignity, and equality of all people – including LGBTQI+ persons" – State Department spokesperson Ned Price
Do You Need Professional Immigration Help?
If so, Contact VisaPlace today. All our cases are handled by competent and experienced immigration professionals who are affiliated with VisaPlace. These professionals consist of lawyers, licensed paralegals, and consultants who work for VisaPlace Legal, an award-winning immigration firm that adheres to the highest standards of client service.
Ready for the next step? Book your 1 on 1 consultation now or call us at 1-888-317-5770.
Have a Question related to your Immigration Needs?
Fill out the FREE Immigration Assessment form and get a response within 24 hours to see if you're eligible.
The assessment form should take approximately 5-7 minutes to complete. We will get back to you within one business day to let you know if we are able to help.