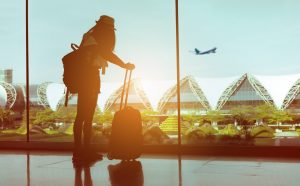 The US announced its plans to ease travel restrictions to those interested in traveling from abroad. Many tourists have been waiting for this news since the COVID-19 pandemic hit in 2020 to visit family members, immigrate, or simply pleasure. These travel restrictions were originally implemented by the Trump administration in March 2020 which stayed in place as President Biden took office in January 2021.
Who Can Travel to the United States?
All fully vaccinated travelers will be able to cross the US border by land or air starting November 8th, 2021. Air travelers will need to show proof of vaccination prior to arrival but will still need to show a pre-departure negative COVID-19 test taken within three days of boarding their flight. A negative COVID-19 test will not be required for entry through the country's land border and ferry ports.
Unvaccinated travelers will continue to be banned from crossing the borders with Mexico or Canada, officials said. Those who were never banned from traveling across the land borders, including commercial drivers and students, will also need to show proof of vaccination when crossing starting in January, giving them some time to adjust to the new rules.
If You Have Concerns About Travel to the United States?
If so, Contact VisaPlace today. All our cases are handled by competent and experienced immigration professionals who are affiliated with VisaPlace. These professionals consist of lawyers, licensed paralegals, and consultants who work for VisaPlace Legal, an award-winning immigration firm that adheres to the highest standards of client service.
Ready for the next step? Book your 1 on 1 consultation now or call us at 1-888-317-5770.
Have a Question related to your Immigration Needs?
Fill out the FREE Immigration Assessment form and get a response within 24 hours to see if you're eligible.
The assessment form should take approximately 5-7 minutes to complete. We will get back to you within one business day to let you know if we are able to help.