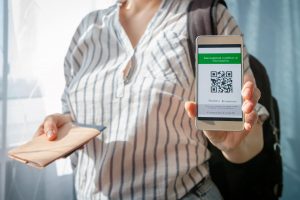 The United States, along with other countries has officially started its latest battle with a new COVID-19 variant. As US officials and scientists gather more data and information about this new strain, the Biden administration has announced that new travel restrictions are coming quickly! This virus strain has already affected some Americans who were in these other countries and were unable to return home. To be sure you are not impacted by these travel restrictions, it's important to know the current testing/traveling requirements which you can learn more about below.
What We Know About The Omicron Variant
The newest coronavirus variant is called 'Omicron' and is considered a "variant of concern" by WHO (World Health Organization) as more and more countries are reporting new cases. Scientists say omicron has an unusual combination of mutations that may enable it to spread faster which has made the United States worried. Although much remains unknown about this new strain, the first case was spotted in South Africa and is known to be present in more than 30 countries. As of December 2, the United States reported its first two cases of the Omicron variant in California & Minnesota.
Latest US Travel Restrictions
Last week, President Biden ordered immediate travel bans for South Africa, Botswana, Zimbabwe, Namibia, Lesotho, Eswatini, Mozambique, and Malawi but did not indicate how long the bans will remain in place. Currently, all air travelers must receive a negative COVID-19 within 24 hours of boarding their flight regardless of their vaccination status. The traveling mask mandate will also be extended which was set to expire on January 18th which is now extended to March 18, 2022. The CDC is currently working with US officials to modify the current global testing order for travel as more data comes in on the Omicron variant.
Have You Been Affected By These New Travel Restrictions?
If so, Contact VisaPlace today. All our cases are handled by competent and experienced immigration professionals who are affiliated with VisaPlace. These professionals consist of lawyers, licensed paralegals, and consultants who work for VisaPlace Legal, an award-winning immigration firm that adheres to the highest standards of client service.
Ready for the next step? Book your 1 on 1 consultation now or call us at 1-888-317-5770.
Have a Question related to your Immigration Needs?
Fill out the FREE Immigration Assessment form and get a response within 24 hours to see if you're eligible.
The assessment form should take approximately 5-7 minutes to complete. We will get back to you within one business day to let you know if we are able to help.