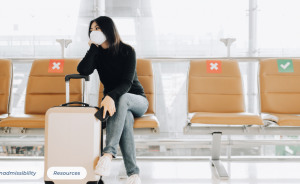 As of November 2022, there are no COVID-related travel restrictions when traveling to or from the United States.
For the past two years, traveling to the United States has been up in the air for many individuals as numerous travel restrictions have been made as the US navigates the COVID-19 pandemic. US officials have stated that they are doing everything they can to stop the spread of the virus which has been tremendously impacted immigration already. It's important to stay up to date with these travel restrictions to ensure you are not denied entry. Related Article: COVID-19 Impact on US Immigration
US Travel Restriction Updates
June 2022 – Travelers No Longer Need a COVID Test to Enter the US
According to a senior administration official and a US Centers for Disease Control and Prevention official, the Biden administration is expected to announce Friday that the US CDC will no longer require travelers to test negative for Covid-19 before entering the US.
Related Article: The US Will No Longer Need Covid-19 Testing for Air Travelers
January 2022 – Vaccination Requirements for Visitors
All international passengers, including Canadians, must be fully vaccinated against COVID-19 to enter the country via land ports of entry and ferry terminals as of Jan. 22, according to the US Department of Homeland Security. At land ports of entry and ferry terminals along the US-Mexico and US-Canada borders, the regulation applies.
Related Article: Vaccinations Required to Visit the US
December 2021 – New Travel Restriction Due to Omicron
Last week, President Biden ordered immediate travel bans for South Africa, Botswana, Zimbabwe, Namibia, Lesotho, Eswatini, Mozambique, and Malawi but did not indicate how long the bans will remain in place. Currently, all air travelers must receive a negative COVID-19 within 24 hours of boarding their flight regardless of their vaccination status. The traveling mask mandate will also be extended which was set to expire on January 18th which is now extended to March 18, 2022. The CDC is currently working with US officials to modify the current global testing order for travel as more data comes in on the Omicron variant.
Related Article: Travels Restrictions Due to New Omicron Variant
September 2021 – Border Reopens to Fully-Vaccinated Travelers
All fully vaccinated travelers will be able to cross the US border by land or air starting November 8th, 2021. Air travelers will need to show proof of vaccination prior to arrival but will still need to show a pre-departure negative COVID-19 test taken within three days of boarding their flight. A negative COVID-19 test will not be required for entry through the country's land border and ferry ports.
Related Article: US Reopening Border to Fully Vaccinated Travelers
US/Canada Border Updates
September 2021 – US Extends Land Border Travel Restrictions
According to White House officials, the United States has prolonged its land border shutdown with Canada and Mexico for non-essential travel until at least October 21st. These restrictions were first put in effect in March 2020 and have been extended on a monthly basis ever since. Much unlike Canada, which has opened its borders to fully vaccinated US visitors in August, letting them arrive by land and air. The closure does not apply to US residents returning to the US after visiting Mexico or Canada.
Related Article: US Extends Land Border Restrictions Until October 21st
August 2021 – US Extends Border Restrictions for Canadians Another 30 Days
The United States Department of Homeland Security has made the decision to extend US border restrictions until September 21st, 2021 due to the increase in cases of the COVID-19 delta variant. These restrictions have been extended every month since March of 2020 when DHS and its Canadian and Mexican colleagues restricted the borders to leisure tourists in order to minimize the spread of coronavirus.
Related Article: US Border Restrictions Change for Canadians
July 2021 – US Extends Land Border Closure to Canadians
On Wednesday, July 21st, the United States government announced plans to extend the closure of land borders with both Canada and Mexico until August 21st. This will only be in effect to non-essential travelers such as tourists and visitors.
Related Article: US Extends Land Border Crossing Closure for Canadians
May 2020 – US/Canada Border Extension
Both Canada and the United States have settled on a plan to extend the ban on all non-essential travel between the two countries through June 21 in order to continue the fight against the Coronavirus pandemic. This was brought to the attention of each nation on Tuesday after Prime Minister Justin Trudeau spoke about the topic.
Related Article: Travel Restrictions Between Canada and US to be Extended
Specfic Country Travel Bans
January 2021 – Temporary Travel Ban from Numerous Countries
President Biden signed new travel restrictions on Monday, January 26, 2021, to help stop the spread of the COVID-19 virus. The temporary ban was created to prevent most non-citizens of the US to enter if they have recently been to any largely infected country. Some countries have a new strain of COVID-19 that will be deadly to the US.
Related Article: US Temporarily Suspends Travel From Multiple Countries
May 2021 – US Restricts Visitors from India
It was announced that the United States plans on restricting travel to the US from India due to the increased amount of COVID cases in India. Recently, a US aircraft left from California to India with COVID-19 relief supplies. Some of these supplies include oxygen cylinders, medical masks, rapid test kits, and medical masks. Airlines have been notified of this decision. Any flight from India will not be stopped but those who are not exempt will not be allowed to enter.
Related Article: US Temporarily Restricts Visitor Travel from India
April 2021 – US Added Canada to 'Do Not Travel' List
On Tuesday, April 20th, the United States added a substantial amount of countries to the State Department's "Do Not Travel" list – Canada, Mexico, France, and Israel making just a small fraction. This is due to the increasingly high levels of COVID-19 amongst these countries.
Related Article: US Adds Canada to 'Do Not Travel' List
May 2020 – Brazil Travel Ban
Like other travel restrictions the United States has put in place to slow the spread of Coronavirus, Donald Trump announced an immediate travel ban from Brazil to the United States starting May 26th, 2020. Entry in the United States has been suspended for individuals who have traveled to Brazil within 14 days as the country has the second most cases worldwide.
Related Article: Travel Ban Between Brazil and the US Due to COVID-19
Do You Need Immigration Help?
If so, Contact VisaPlace today. All our cases are handled by competent and experienced immigration professionals who are affiliated with VisaPlace. These professionals consist of lawyers, licensed paralegals, and consultants who work for VisaPlace Legal, an award-winning immigration firm that adheres to the highest standards of client service.
Ready for the next step? Book your 1 on 1 consultation now or call us at 1-888-317-5770.
Have a Question related to your Immigration Needs?
Fill out the FREE Immigration Assessment form and get a response within 24 hours to see if you're eligible.
The assessment form should take approximately 5-7 minutes to complete. We will get back to you within one business day to let you know if we are able to help.