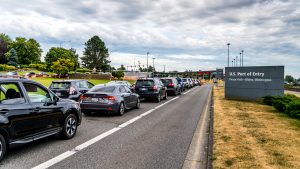 As more temporary residents seek fast immigration services, some firms are seeing a spike in the number of people that are flagpoling. Flagpoling is when a person leaves Canada and goes back to the USA without crossing into the country. The process can cause delays at busy border points. It is a perfectly legal process, but it can also create problems for Canada Border Service Agency staff. With this method, the entire process is done on the spot. The CBSA has restricted the number of days and times that flagpoling can be conducted at ports of entry. It also plans to improve processes for processing applications. In a statement, the IRCC urged immigration advisors to stop encouraging their clients to flagpolize their work permits.
Why Use Flagpoling?
This strategy is used to activate a new permanent resident status, renew study or work permit, or change their immigration status. People use this strategy to save time when applying with the IRCC. When someone flagpoles, they present themselsves at the Canadian Port of Entry and their application is typically complete in less than 30 minutes.
Can I Flagpole? Who is Eligible to Flagpole
Flagpoling can be used by:
They can use flagpoling to renew their permits. They would just need to bring their documentation to a U.S. border and have their case processed at the border.
Flagpoling can also be used by temporary residents of Canada to validate Permanent Resident status. This can be an alternative to waiting months for an appointment with the IRCC.
Why Shouldn't I Use Flagpoling?
The first hurdle on flagpoling is actually getting to the border. If you live near the border and own a car, this isn't a difficult task but if not, it can be an expensive trip. You have to visit the US as part of the flagpoling process. If you are not admissible to the US then you will not be able to complete the flagpoling process. There is also the risk of being caught between both countries, denied entry to Canada and the US. This is why we always suggest consulting with an immigration consultant before committing to flagpoling.
Required Documents for Flagpoling
The documents required for flagpoling vary depending on why you're flagpoling.
Renewing Study or Work Permit
If you want to renew your study or work permit you will be required to have your passport and current visa.
For Work Permits you will be required to have a job contract signed by your employer and possibly an LMIA, PNP certificate, letter of support from PNP, and valid medical examination.
For Study Permits you will be required to have an official letter from a recognised education institution, proof of financial support and possibly a letter of explanation, CAQ, and custodian declaration (for minors).
Permanent Residence Validation
If you want to validate your permanent residence ou will be required to have the following documents:
Passport or Official Travel Document
Confirmation of PR or letter from Canadian visa office
Proof of legal status in Canada, work permit, study permit, temporary resident visa
Proof of impied status: payment receipt, copy of extension application.
Thinking about Flagpoling?
If so, Contact VisaPlace today. All our cases are handled by competent and experienced immigration professionals who are affiliated with VisaPlace. These professionals consist of lawyers, licensed paralegals, and consultants who work for VisaPlace Legal an award-winning immigration firm that adheres to the highest standards of client service.
Ready for the next step? Book your 1 on 1 consultation now or call us at 1-888-317-5770.
Have a Question related to your Immigration Needs?
Fill out the FREE Immigration Assessment form and get a response within 24 hours to see if you're eligible.
The assessment form should take approximately 5-7 minutes to complete. We will get back to you within one business day to let you know if we are able to help.