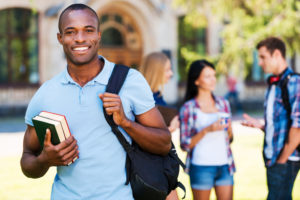 Many people already know that Canada is one of the best countries to get your college degree. Canada has advanced technology and teaching methods that it attracts international students seeking a degree, higher standard of living, rich culture, and amazing employment opportunities that Canada offers. This is why so many international students have chosen to study and work in Canada.
Canada's education system holds high standards and top international rankings while also boasting some of the lowest tuition fees for English-speaking countries. Canada offers a wide range of educational institutions and programs for both technical and professional diplomas and degrees. Canada is known to have a fantastic organized program that helps students obtain jobs after graduation. Many students consider working during their studies which can help jump-start careers in the industry of their choice after obtaining their degree. Since there are so many people who come to Canada to receive these amazing benefits for work and study, it is important to pick a degree in a field that is hiring.
Best Jobs in Canada
According to StudyPortals here are some of the best jobs that Canada has to offer, with estimated annual salaries.
Mining and forestry manager: 108,805 CAD
Oil and gas drilling supervisor: 79,040 CAD
Air traffic controller: 87,360 CAD
Statistician and actuaries: 89,606 CAD
Engineering manager: 94,994 CAD
Public administration director: 99,195 CAD
Power systems operator: 84,198 CAD
Health & community service manager: 100,006 CAD
Mapping technologist: 68,640 CAD
Senior business manager: 97,136 CAD
Jobs in Canada With The Highest Hiring Percentage
After graduation, the students from Canada began their job hunting and a high percentage of them get employed locally. But this situation especially favors certain fields. Below you will find a study made by CTV News that shows the employment rate in Canada by field of study.
Dentistry, Therapy and Rehab, Forestry, Veterinary Medicine: 100%
Medicine: 99%
Nursing: 97.4%
Pharmacy: 97.2%
Computer Sciences: 96.5%
Business and Commerce: 94.9%
Highest Paying Jobs in Canada by Field of Study
The amounts are calculated on a yearly basis.
Dentistry: 99,706 CAD
Pharmacy: 91,031 CAD
Veterinary medicine: 73,974 CAD
Law: 72,981 CAD
Medicine: 65,333 CAD
Therapy & rehab: 65,000 CAD
Engineering: 63,564 CAD
Computer sciences: 63,462 CAD
Nursing: 62,248 CAD
Canadian Universities with the Highest Employability
Top 10 International Universities
Many of the best universities in Canada are also found in the international higher education top. However, there also are some new 2018 entries you should check out below.
Every year, over 130,000 students come to Canada to study. In order to do so, they must obtain a study permit issued by the Canadian government. This permit, which is a type of Temporary Resident Visa (TRV) allows students to study in Canada for a temporary period of time, and typically indicates the educational institution they are attending and course of study. To qualify, an applicant must fit a certain set of requirements. Find out if you qualify to study and eventually work in Canada by filling out our FREE online assessment.
Are You Interested in Studying in Canada in 2022?
If so, Contact VisaPlace today. All our cases are handled by competent and experienced immigration professionals who are affiliated with VisaPlace. These professionals consist of lawyers, licensed paralegals, and consultants who work for Niren and Associates an award-winning immigration firm that adheres to the highest standards of client service.
Ready for the next step? Book your 1 on 1 consultation now or call us at 1-888-317-5770.
Have a Question related to your Immigration Needs?
Click here to fill out the FREE Immigration Assessment form below and get a response within 24 hours to see if you're eligible.
The assessment form should take approximately 5-7 minutes to complete. We will get back to you within one business day to let you know if we are able to help.