Interested in immigrating to the United States?
Fill out our immigration assessment form today.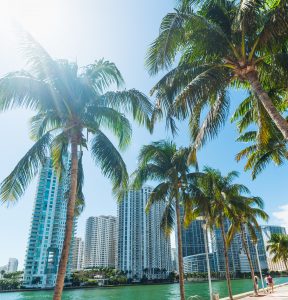 Are You Interested in Moving to Miami, Florida USA?
Miami, Florida is a wonderful place to immigrate to if you're looking for sunny skies and an energetic environment . It is the capital and largest city of Florida, with a population of 439 thousand. The city is located on the Atlantic coast in southeastern Florida and is the county seat of Miami-Dade County.
Miami is a major center of finance, commerce, culture, media, entertainment, arts, and international trade. The city is filled with engaging communities rested among beautiful beaches and warm weather all year long.
In 2010, Miami was classified as an Alpha City in the World Cities Study Group's inventory. In 2010, Miami ranked seventh in the United States in terms of finance, commerce, culture, entertainment, fashion, education, and other sectors4
Miami is an Ideal City for Immigrants
This makes an ideal situation for people from abroad who want to immigrate to Miami, USA.  Miami has a rich history of a city forged through the efforts of its immigration community, and is still considered to be one of the United States' most welcoming cities for immigrants looking to seek a better life.
Immigrants Living in Miami
Miami is a model city for immigrants looking to move to the U.S. The city is one of the most educated groups of immigrants, more than 23% of immigrants in Miami have some college experience, while almost 29% of immigrants in Miami have already graduated high school. These statistics increase every year because of the immigration settlement services for immigrants in Miami. Whether you're staying in Miami with a U.S. work visa, student visa, or green card, they want to help you with your education and employment in America.
There is so much character and personality mostly defined by the immigrants and foreign workers in Miami, who can have a major impact on the local political environment, public systems, education and economic prosperity.
If you choose to relocate to Miami, make sure that you start your paperwork long before your arrival. Visa regulations change from time to time, therefore we strongly recommend that you stay updated on American rules and regulations regarding visa applications here: https://travel.state.gov/content/travel/en/legal/visa-law0/laws-regulations/us-visa-policy.html
Basic U.S. Immigration Paths:
Non-immigrant visa: Issued when you don't have intentions to settle in the US. You should be able to prove that you will return to your home country when the visa expires.  Here is a list of non-immigrant visas:

Visitor visa (If your country is listed in the visa waiver program, you won't have to apply for a visa)
Specialty workers who can show that they only wish to reside in the US for a certain period of time

Immigrant visas: It is mandatory to have a sponsor for this type of visa, such as a relative or an employer. Here is a list of immigrant visas:
The H-1B Program May Be Your Opportunity
Miami is a commercially driven city of numerous businesses making it a center of finance, tech, and tourism. An H-1B visa is a United State Work permit that allows foreign workers to have "special occupations", preferably ones that are professional or high-skill. The Miami metropolitan area is an excellent location for those seeking entry into the H-1B program. In 2022 we've seen a 23,000+ increase in private industry supersector employment for professional and business services. Miami welcomes foreigners to come work within the city while obtaining an H-1B work permit.
Before you begin your travel to Miami, working with a skilled immigration lawyer will help make sure your particular case is handled properly.
Miami boasts a strong international business community. In 2022, according to newamericaneconomy.org, immigrants in Miami-Dade county occupied 61.5% of jobs involving STEM (science, technology, engineering, and math). The H-1B visa is an excellent gateway to immigrating to the U.S. so that you can advance your career in a city of innovation and progress.
Major industries such as tech, finance, and tourism flourish in Miami due to its population of innovative workers. If you have a job offer for a specialty role in Miami, perhaps in one of its leading industries, the H1-B visa may be right for you. A previous skilled workers program had hit its quota in the US just days into the application period as reported by the United States Citizenship and Immigration Services, prompting a lottery and signaling that companies feel confident enough to hire more foreign workers. The H-1B program offers one of the best opportunities to start a life in Miami, Florida.
Job Opportunities
The largest immigration workforce is in Miami. If you are coming to the city with a work visa, you are not alone. Immigrants make up 65.4% of Miami's labor force. This is one of the most important reasons why immigrants are so welcome in this Floridian city.
Cost of Living
In Miami, the average cost to rent a house is approximately $1,700/month. Transportation
Transportation
Luckily, Miami has an extensive public transportation system so no matter which neighborhood you were to live in, you will be able to traverse to and from work. Miami-Dade Transit is the primary public transportation of Miami, Florida, it is the 15th-largest transit system in America. This system consists of trains, buses and metro-movers.
Climate
The climate of Miami, the southernmost and largest city in Florida, is tropical, with pleasantly warm winters and long and muggy summers.
The average temperature ranges from 20 °C (68 °F) in January to 29 °C (84 °F) in July and August.
Education
Many students will travel, study abroad, or move to Miami because of its great opportunities for higher education. If you are moving to Miami for school then it would be a great idea to pick a neighborhood close to the universities. The TALK School of Languages in Miami Beach has been designed and equipped to enhance your educational experience. It specializes in helping people adjust to higher education when English is not their primary language.
Many individuals come to Miami for higher education and is known for its excellence. Miami is home to a few well known colleges and universities.
Top colleges/universities:
Food, Activities, Sports
Activities: Miami is filled with attractions throughout the entire city. The top attractions in Miami are:
Wynwood Walls (where our Miami office is located)
Vizcaya Museum and Gardens
Wynwood district
Dolphin Mall
Zoo Miami
Zoological Wildlife Foundation
Sports: Miami have several professional sport teams.
NFL: Miami Dolphins
NHL: Florida Panthers
NBA: Miami Heat
MLB: Miami Marlins
Foods: "Miami is a youthful energetic destination with an ever-expanding culinary scene"
There is no hiding Miami's excellent Cuban and Latin American culinary knowledge. Miami is fileld with Flashy Hotel Restaurants, Artsy Bars, Celebrity Chefs, and Mom & Pop Shops. 
Our immigration lawyers have the knowledge to let you know if you will qualify to immigrate to Miami.  If you're wondering if you're eligible for immigrating to Miami, you can fill out our free questionnaire.
If you already know you're eligible for immigration but want an immigration lawyer to prepare the required documents and application then you can book a consultation. Book a consultation with one of our licensed immigration professionals who will review your unique case.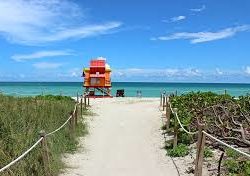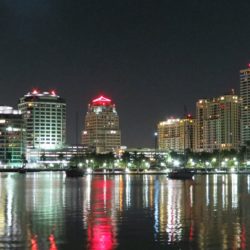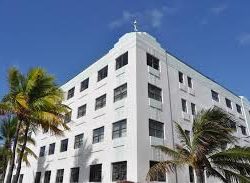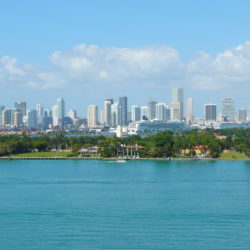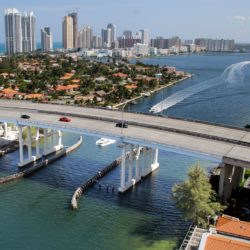 How Our Immigration Lawyers Can Help
If you plan on migrating to Miami, FL in the USA, then you'll want an immigration lawyer who knows the ins and outs of American immigration.   Our firm has offices throughout North America, but our corporate office is in Toronto.  Even though our main office is not located in Miami, if you watch the video above you will quickly see we are able to help anyone in the world immigrate to Miami.
Our immigration lawyers have over 30 years combined experience and have successfully processed thousands of US visa applications.   We are fully confident we can help you with your immigration matter too!  You can get in touch with us here.
Some More Information On Miami
Miami does not have four different seasons and is predominantly warm throughout the year with the exception of periods of heavy tropical rain fall. The temperatures tend to very hot year round. You must plan your activities and your clothing around the hot temperature so that you and your family remain safe and healthy.   One of the major landmarks of Miami is the Miami Tower, seen in the photo above on this page.   You could also check out the Miami Freedom Tower which has thousands of people (both local and tourist) passing through each and every year.  Miami has a ton of fun activities any family can get involved with.
Picking the Best Neighborhood Based on Your Lifestyle
If you're looking to immigrate to Miami, Florida on a work visa, you're not alone. The Miami-Dade County in Florida has experienced a 20 percent growth within the last ten years much because of its recent immigration. Because of the immigration growth the county now has the second largest percent of foreign-born residents in the United States. Although Miami is proud of its largely diverse population, many immigrants choose to live outside the city in its surrounding suburbs. Miami's total population is 65% Latino, mainly immigrated from Latin America, with its an international financial mecca for Latin music and culture. Other than the Latin culture, Miami is full of unique cultures from African-American, Latino, Haitian, and Jewish descent.
Keep in mind that selecting a neighborhood is extremely important to your lifestyle. If you are moving to Miami with your family, selecting a neighborhood with great schools and plenty of single family homes is a great idea. Beyond the obvious amazing beaches for families to attend, there are also 260 parks with 143 playgrounds. Every neighborhood has somewhere for kids to play. There are 239 public schools with many that received a 10 out of 10 on the GreatSchools Rating. There are also 185 private schools. Having the University of Miami in the city means that kids can continue their education at a local tuition rate.
Surrounding Areas: Fort Lauderdale, West Palm Beach, Florida Keys
Miami is the largest city in the South Florida region but there are several surrounding areas that can be an attractive option for foreigners. Some people can find Miami overwhelming with the large population and tall skyscrapers so they prefer outside the city limits .
Fort Lauderdale is a city on Florida's southeastern coast, known for its beaches and boating canals. There are several attractions that bring tourist to the area throughout the entire year. The area is a growing city for diversity with over a quarter of the population made up of Black residents. There is a huge influx of Caribbean immigrants from Jamaica, Haiti, and Trinidad. There is also a fast growing Hispanic community makign up 15% of the population. 
More about Fort Lauderdale. 
West Palm Beach is known for its upscale boutiques and beautiful beaches. West Palm is the most northern city in South Florida mostly made up of White and Black (non-hispanic). The area has an abundance of fishing, restaurants, sports arenas, beaches, and boating. 
Learn more about West Palm Beach. 
The Florida Keys are a string of multiple, tropical islands that stretch off the Southern tip of Florida. The Keys are located south of Miami and are typically a destination for fishing, boating, snorkeling, and scuba diving. Key West is a more expensive place to live in South Florida than any of the other areas. The high cost of living in the Florida Keys makes it hard for people just settling into the US but the Keys are quite irrestistable!
Learn more about the Florida Keys. 
Important Things to Do Once Arriving in Miami
Once you arrive to Miami and get settled in your new home, you'll want to do the follow items:
When you work with our immigration law firm we make sure we provide you with all the resources you'll need to settle properly in your new country.   If you are interested in immigrating to Miami, be sure to contact our law firm to get an assessment of your case with one of our immigration experts.
Interested in Immigrating to Miami?
Getting started is easy. Use our eligibility assessment form or call us today to speak with one of our U.S. immigration experts.